Online Test Checklist: 5 Things to Do Before Taking The Test
Is this the year you step onto the Jeopardy! stage? If every half-hour show leaves you hungry for more clues, you know you've got what it takes. That means it's time to take the step that every contestant takes: signing up for the online test. If you're ready – and you know you are – we've got a few pointers everyone should know.
1. Prepare Your Account
Do this right away: Sign up for your MyJeopardy! profile along with the extended online test eligibility and registration form. Don't wait until test day! We also encourage you to opt in to notifications so you don't miss any important reminders. If you already have a MyJeopardy! profile, check your dashboard to make sure your registration is current and you still satisfy the minimum eligibility requirements. Once you are logged into your MyJeopardy! profile, continue on to the Be a Contestant page to complete your online test registration.
After you've successfully submitted a complete registration for the test, you'll receive a confirmation email within 24 hours, and you'll be able to see the active registration in your dashboard. If you have not received this confirmation, check your email's spam folder.
2. Get Comfy
The online test is designed to assess your response speed and mental flexibility as well as your knowledge. It's a unique design, and the more comfortable you are with the format, the better you're likely to perform. That's where our practice tests come in. Although they only consist of 30 clues, they are presented in the same format as the Jeopardy! Online Test, and the experience will help you be prepared for the timing and configuration of the test.
We recommend taking all the different available practice tests (adult, college, teen and sports). Categories and clues change on every test, so don't worry so much about your responses, but pay special attention to the layout and cadence of the test. The online test is not a typing test or a spelling exam, but confidence here is key. Take the time to know the format and own it.
Another great way to prepare is by playing J!6, our online game that has an extra, sixth clue made for our show for every category. Play it every day, track your progress, and study any sections that make you struggle. Find more ways to prepare for the online test by visiting the Prep Center.
3. On Test Day, Come Back Early to Jeopardy.com
One hour before the test runs, there will be a link on the homepage directing you where to log in. Click on it, and enter your username and password. You'll know you're properly logged in when you see the test window and countdown clock. It will look like this: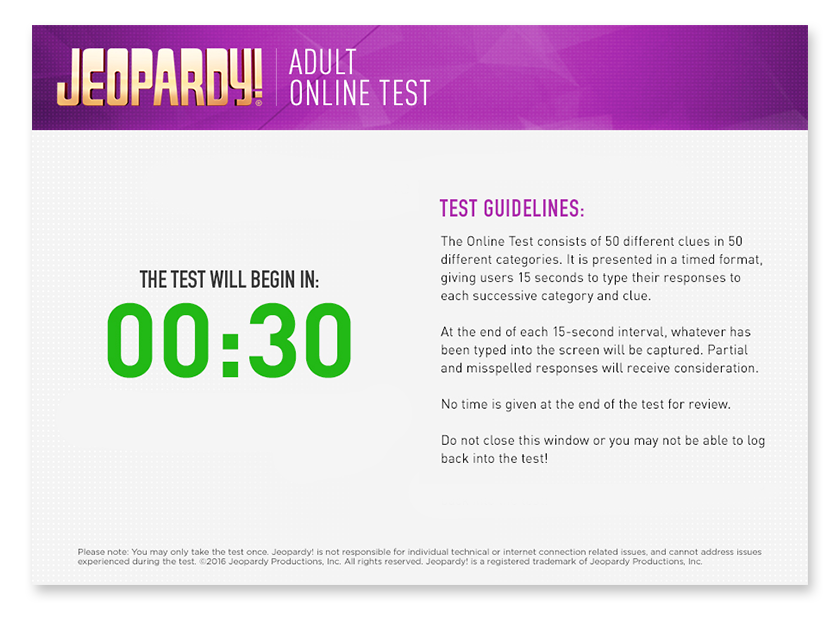 DO NOT CLOSE THIS WINDOW until you are completely finished with your test. If you close it, your answers will not be saved, you may get locked out of the test and your dreams of being on the show will be crushed. (Okay, until the next test date. But who wants to wait until then?)
4. Select Your Audition City
You can now update your audition city choice from the most current list at log in. Once you've logged in to the test (early, of course!), make your selection before proceeding to launch the test window. Follow-up auditions may happen at any time in the next year, so make sure the location most convenient for you is selected.
5. Take Your Time During the Test
This is one of the most important tips for taking the actual test. Get your response in quickly, but we encourage you not to try to speed through the test. Use all available time to recheck the category and make sure you're confident of what we're asking for, as well as your response. At the end of 15 seconds, whatever you have typed into the response field will be captured. And unlike the show, you do not have to respond in the form of a question. Save your phrasing expertise for your audition! (To get a sense of how the tests work, see Tip 2 and take a practice test.)
6. Relax After the Test
Once you've taken the test, your dashboard will be updated and you will receive an email within an hour of completing the test confirming your test has been received. Other than that, you will not need to do anything - although self congratulations are also completely appropriate. If your scores qualify you for an in-person audition, you will be placed in the pool for random selection for an audition. If not, remember many of our greatest champions took the test and/or auditioned multiple times before being invited to compete. So, stay with it; there's always next time! And now that we're hosting more than one online test event each year so you'll have more opportunities than ever to get on the show.
One last thing: you may only take the online test once per three-night event. Anyone who attempts to qualify multiple times will be subject to immediate disqualification. See our Contestant FAQs for new eligibility rules.
*BONUS*: Your Test Day Checklist
Below is a checklist of what might seem obvious, but past test seasons tell us otherwise. We suggest having this list handy on test day. Trust us: You'll be glad you did.
What You Need to Do Before the Test
- Sign up for a MyJeopardy! profile
- Register for the online test (at least two hours before the test)
- Keep username and password handy
- Make sure the practice test works on your browser. (We suggest taking the online test on Chrome or Firefox. AOL is not supported.)
- Go to Jeopardy.com and log in for the test one hour before the test starts. Make sure you've selected your audition city.
- Launch the test window – you'll know it's the right one when you see a countdown timer

What You Need to Do During the Test
- Keep test window open (do not close it until completely finished)
- Use your full 15 seconds for each question
- Do not worry about perfect spelling
- Do not respond in the form of a question
What You Need to Do After the Test
-Check your dashboard and look for a confirmation email that you successfully took the test
- Relax (You did it!)
- You will never know what your score is, but if you pass, you will be placed in the pool to be selected at random for an in-person audition. You could be contacted by a member of the J! contestant team up to 18 months after taking the test to come to an audition.