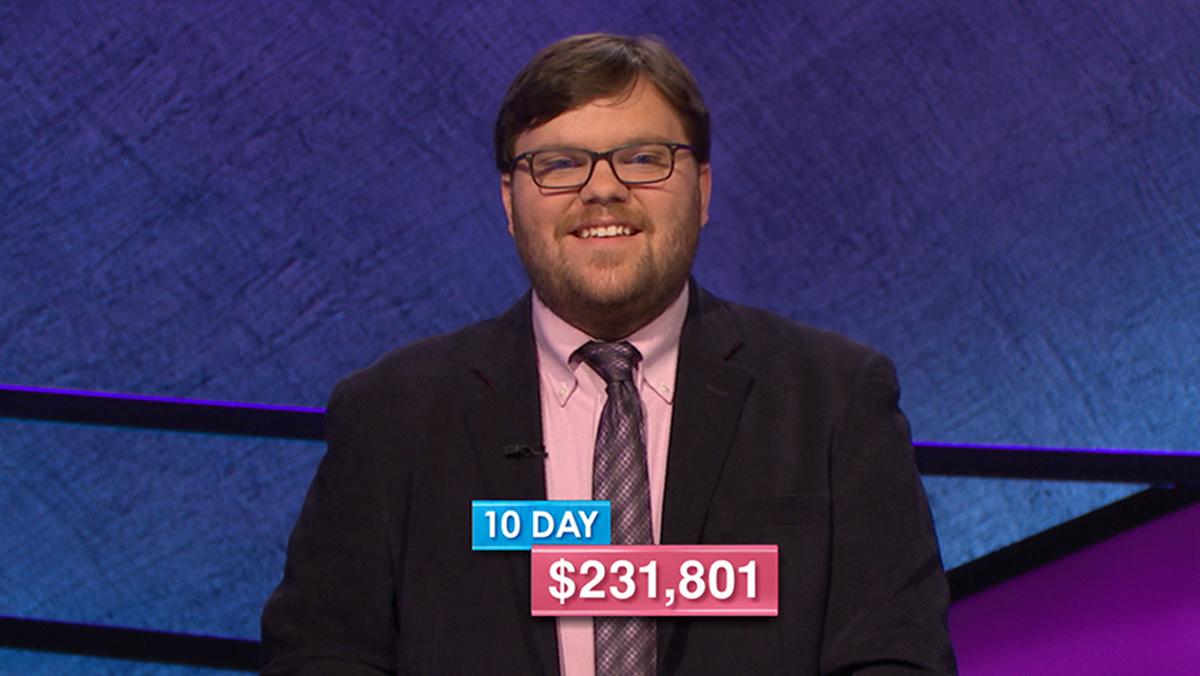 Who Is Seth Wilson?
Ten games and $231,801 in, Seth Wilson is well into a monumental winning streak, passing the likes of Buzzy Cohen, Dan Pawson and Jason Keller to hold sixth place on the "All-Time Games Won" list. So who is this contestant that Alex credits as causing "Wilson mania," and what are his secrets to doing so well?
What Does Jeopardy! Mean to Seth?
Seth has been watching Jeopardy! since he was 5 years old. He recalls his frustration at not having the correct responses at that age and how good it felt to finally respond to a clue correctly while playing along. "I found out that I really liked getting questions right," he says.
Playing along with Jeopardy! wasn't the only way Seth would don his thinking cap. On family vacations, his parents would give the kids quizzes on what they were learning throughout the trip. As an adult, he often plays pub trivia, so competing on Jeopardy! was a logical goal. To him, the show is "the holy grail of trivia."
How Does He Do It?
Preparation
Seth has employed the most important two principles in having success on Jeopardy! First, he prepared, prepared, prepared. Then he relaxed and chose to have fun playing the game.
As a Ph.D candidate in theater, Seth already had a wealth of useful knowledge. His undergraduate studies focused heavily on English and theater, and his current work as a Ph.D candidate includes a lot of history. To fill in the gaps in his preparation, he used online quizzes. In particular, he focused on geography, a self-identified weak point.
Strategy
Seth's style has been to play the game traditionally, working down the categories from lowest to highest dollar amount. He's been homing in on the categories that he feels strongest in and trying to avoid the ones he is less confident about.
In Seth's first game, he wasted no time getting ahead, running the entire first category of the day, GEORGE CLOONEY FILM ROLES. He cites that as a highlight of his games so far, as it gave him a confidence boost early on. "I really settled in after that," he says.
Seth says he's fortunate to have a "pretty quick buzzer hand" and a "pretty broad base of knowledge." He's been putting those attributes to work, and we can't wait to see how far they'll take him.
Fun Facts About Seth
He's a stand-up comedian
Seth says a makeup artist told him he seems serious on the show, but that's not really his personality. He's generally pretty relaxed, and even does stand-up comedy. Whatever his serious expression may be saying, rest assured that Seth is having the time of his life behind that podium.
He has a distinctive laugh
When we first met Seth in his contestant interview, he described his laugh as sounding like a "broken pig." We haven't heard it yet on the show, so it remains to be seen if Alex can "break the pig!"
Advice for Prospective Contestants
Seth says, "Take the online test, even if you don't get on [the show]. It's a fun test, fun format, fun thing to get to do."
When asked about the key to his audition success, Seth said he had a good time playing the mock game and didn't get too stressed about the outcome. He says that's also the key to his success so far on the show. "Jeopardy! is an amazingly fun game to play," he says, "even if you only get to play one [game] ever."
Seth has already gotten to play a lot more than one game. Will his broad knowledge base, cat-like buzzer reflexes and love of the game get him an 11th win? Will he tie with Arthur Chu for fifth place in "All-Time Games Won"? Find out on Monday, October 3!