James Holzhauer Wins Jeopardy! Masters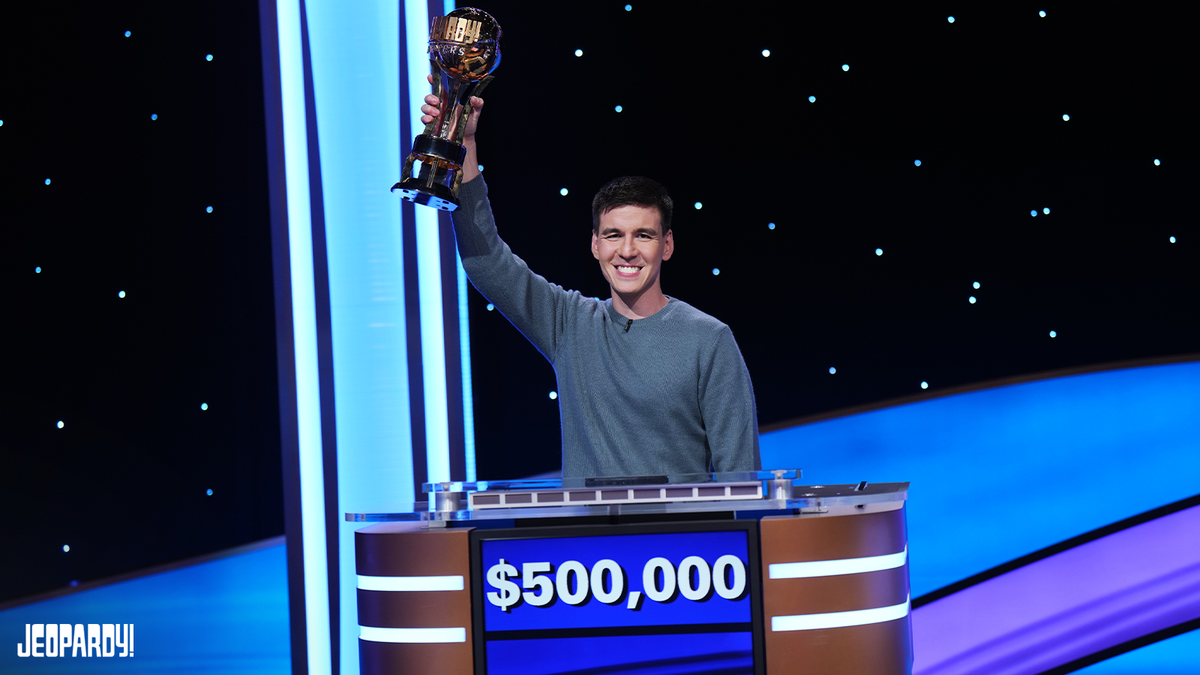 It's official: James Holzhauer is the first-ever Jeopardy! Masters champion! The self-described "game show villain" won the three-week-long competition on Wednesday, after going head-to-head against Mattea Roach and Matt Amodio in the two-game final. 
"I knew coming in this was going to be an incredibly high-level competition," James told executive producer Michael Davies and producer Sarah Whitcomb Foss during Wednesday's post-tournament edition of Inside Jeopardy!. "But even I was blown away by the great performances out there – especially Mattea in the final."
While James was ahead after the first game, Mattea had a commanding lead over him in the second. However, after combining the points from both games James was able to secure the win with a total of 43,795 points and claim the $500,000 grand prize and Trebek Trophy. Mattea finished in second with 41,685 points and earned $250,000 and Matt took home the third place prize of $150,000 after scoring a total of 15,200 points.
"You know I told [Mattea], I've played against Ken, I've played against Amy, I've played against all time greats," James said. "But I've never felt as on the ropes as Mattea made me feel in the final."
"I don't know what it is about their buzzer mojo," he continued. "But, you know, there were times where I just could not get in." 
All three players missed the last Final Jeopardy! clue on Wednesday, which James said ultimately played out in his favor. 
"I had two choices: I could bet everything [and] hope I get it right and Mattea gets it wrong," James said, discussing his Final Jeopardy! strategy. "Or [if] Mattea bets small, I can wager small and hope that it's a really hard [clue] and that Mattea gets it wrong and bets big."
"It's kind of lucky that Mattea went that way and especially lucky that it was a killer final that none of us knew," he added.  
In terms of material, James said he found the Jeopardy! Masters clues to be just as challenging as the other elite tournaments he has played in, including the 2019 Tournament of Champions and Greatest of All Time in 2020.
"I tried my best to prepare, but honestly you never know what's going to come up there," James said. "And a lot of the things [the show] threw out there I was expecting — Triple Rhyme Time, Before, During & After — but that doesn't help you prepare for it. It was as hard as anything I have seen on the show."
As the only player who did not compete in the last Tournament of Champions, James said he did not know what to expect from his fellow players, which in addition to Mattea and Matt included Amy Schneider, Andrew He and Sam Buttrey. But he was certain that the competition in Jeopardy! Masters would be stiff. 
"I knew everyone was going to be great," James said. "There were no easy outs in the lineup ever. I had to go in there and play my best and hope that was good enough."
In addition to James' grand prize winnings of $500,000, Jeopardy! is donating $100,000 to his charity of choice, Project 150, which offers free support and services to homeless high school students in Southern Nevada. 
"It's going to mean so much to these people," James said. "They are going to be able to provide some scholarships, and some food and some clothing to people who badly need it." 
James will return to the Alex Trebek Stage to defend his title in next year's Jeopardy! Masters alongside Mattea and Matt, who both earned automatic entries into the competition by qualifying for this year's finals.