Jeopardy! Set in LEGO® Form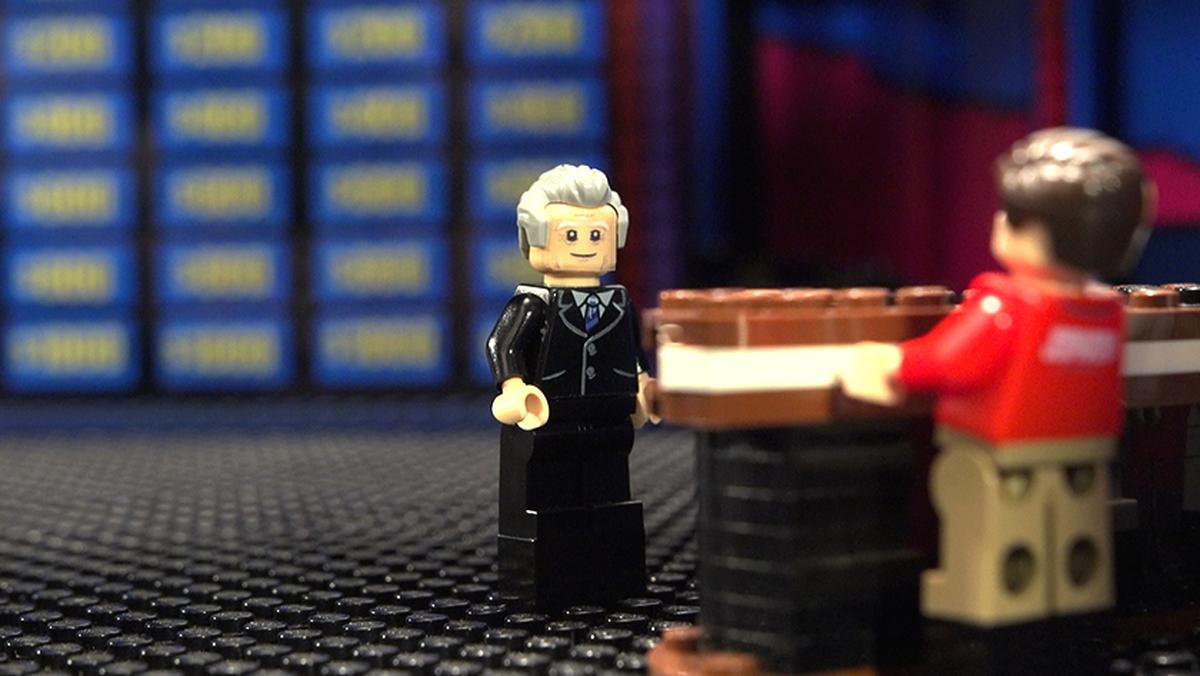 In finding new topics for Jeopardy! categories and clues, we often find inspiration in the things that surround us every day. Rebecca Erbstein, Producer, Jeopardy! Promotions took notice that her nephew had a love for building LEGO® sets and reconstructing them into his own creations for hours on end. It occurred to her that the LEGO Group (not unlike Jeopardy!) has been educating and entertaining for generations and would make a great partner for its own category of clues.
Enter LEGO Systems. The brand was thrilled to become a part of Jeopardy! history, and as the teams got further into the planning process, they came up with the idea of building a replica of the iconic Jeopardy! set out of LEGO bricks.
LEGO Master Builder, Peter Donner, studied dozens of Jeopardy! studio photos and rewatched episodes of the show to meticulously recreate it in LEGO form. After about 100 hours of the expert touch of illustrators, designers, master builders and a production team, the replica of the Jeopardy! set was complete.
"Every aspect of the LEGO set replica was given a lot of thought, and we went through several versions of 3-D renderings," said Rebecca. "We discussed everything from colors to size and aspect ratios, to set elements; all the way down to the 'JEOPARDY!' on the back of Johnny's jacket." The team also customized each of the mini figures sitting at the judges' and contestant tables to as closely resemble the actual staff members as possible. See Alex and our crew as LEGO® mini figures.
Even the categories on the gameboard went through many iterations in an effort to strike just the right balance of fun and authenticity. And speaking of details, we also give a special shoutout to Rebecca's nephew, Joshua, whose love for LEGO sets unknowingly helped inspire this collaboration. He is featured as one of the contestants in our Jeopardy! LEGO set.
Tune in to see the full LEGO category on today's game.