College Championship Final Ends in $100K Nail-Biter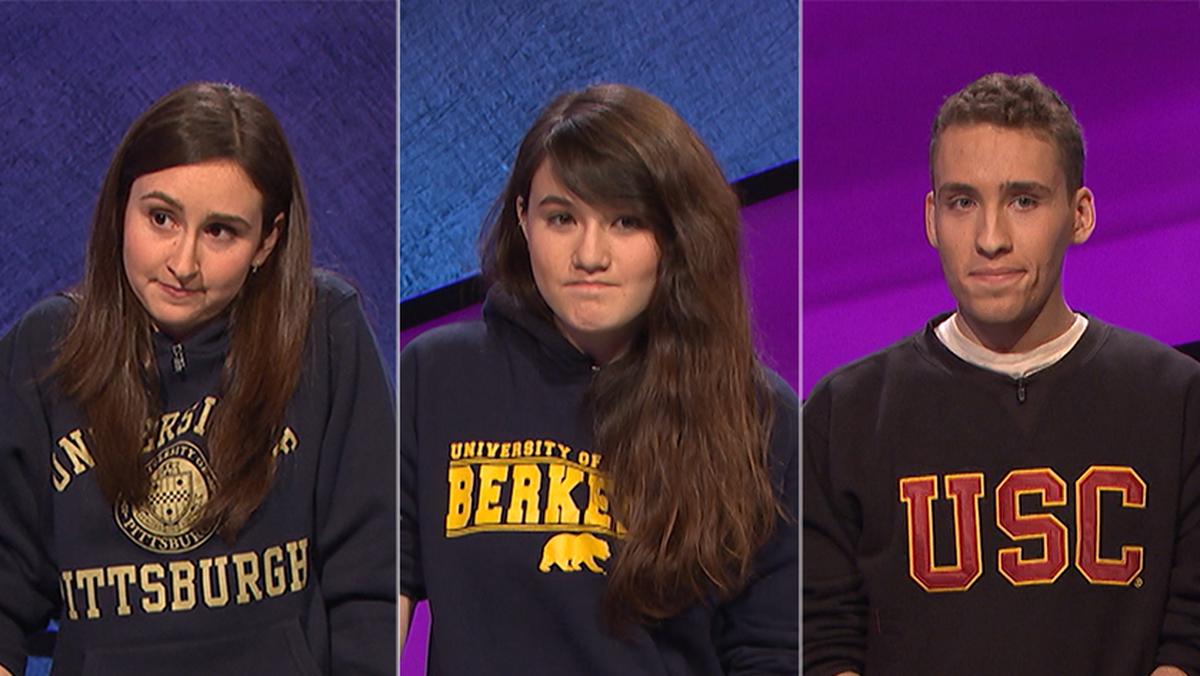 Two weeks ago, 15 college undergraduates from schools all over the country arrived at Jeopardy! Their goals were simple: clear the field, shake hands with Alex, and reap the $100,000 award as Jeopardy!'s 2016 College Champion.
What they may not have foreseen was what often happens when Jeopardy! contestants gather for a tournament: bonds and friendships form even in this intense and competitive environment. College rivalries aside, there was more camaraderie than any of them could have anticipated, and throughout the games, the students all watched and cheered for one another. When one student got a Daily Double correct, the others showered them with praise. This intersection of competitiveness and conviviality supports executive producer Harry Friedman's declaration (in the video below) that, "this is one of the finest groups of contestants, of college students, we've ever had."
After chatting with every contestant prior to the tournament, it became apparent that we may have some future trailblazers on our show.
The students expounded upon GMOs, global warming, conflict in the Middle East, advice for the future President of the US, and what they would do to leave their mark on the world. To that end, Ziad Ali (North Carolina State University) told us he would, "make a lot of progress in making America's education system better...anything that can help students be more prepared at a younger age for college and to create a more well-educated populace."
They also shared serious stuff like favorite emojis and anti-jokes (jokes that are true and funny) such as, "What's red and bad for your teeth? A brick." Thanks for that one, Gus Woythaler (Stanford). More behind-the-scenes antics below.
Though the entire field of contestants was strong, one stood out. Sam Deutsch (University of Southern California) maintained an unflustered style behind the podium. Even in critical moments, Sam calmly doubled his money to pull away from competitors when the time was right. In the face of tough competition, his voice provided no trace of nerves. The calm look on his face reaffirmed that.
On day one of the two-day final, Alex Trebek stated that it was anyone's tournament. After the end of that game, Sam was down by $1 (Sarah: $22,001; Niki: $18,600; Sam: $22,000) and, with day one's scores displayed on each podium, the pressure mounted.
Day two highlighted Sam's calm and savvy gameplay as well as Niki Peters' (University of California - Berkeley) control of the game overall – until one critical point. Going into Final Jeopardy!, Niki was up $7,800 on Sam for the day and $4,400 overall. Sarah Dubnik (University of Pittsburgh) took herself out of contention by responding incorrectly and wagering everything – $4,800. The camera panned to Sam who, with $8,600 in his pocket and the tension in Studio 10 reaching a fever pitch, immediately put the heat back on Niki as he responded correctly and boldly doubled his money. He ended the day with $17,200. An incorrect response from Niki crowned Sam Deutsch the new Jeopardy! College Champion.
After winning, Sam modestly offered, "I didn't play amazingly. I just...was lucky that I was able to come up with the Final Jeopardy! answer on time." We'll agree to disagree, Sam, but we'll leave it to the viewers to decide whether that was luck or skill.

Was Sam's victory the product of luck or skill? Tweet us your thoughts @jeopardy.