What Makes Austin Rogers a Jeopardy! Winner?
There are a lot of words you could use to describe contestant Austin Rogers: Bold. Eccentric. Really good at miming. But the main one would have to be "winner." After just eight games, Austin has already managed to reach fifth place in all-time regular season winnings, racking up a cool $306,900. So what else can be said about this quirky genius? What makes him Jeopardy!'s latest streaker? We'll let him do the talking.
1. Jeopardy! Has Been on His Radar for a While
When I was a kid, Jeopardy! aired at 7 p.m. on WABC-7, but it also aired earlier on some local affiliate channel, so occasionally my brothers and I would watch the earlier version, then yell out the answers on the later airing to piss off our parents.
2. He Set the Bar Low
I set myself a goal of two wins. I sort of exceeded that expectation. I mean, I always wanted validation that I'm smarter than everyone, and now, when in an argument, I can just say "SCOREBOARD!" and point to an imaginary jumbotron.
3. His Knowledge Spans History, Music and "General 'Nerdery'"
My education was a little on the specialized side, so I don't think it really affects my results other than encouraging a curious nature. If I don't know the answer to something, I immediately look it up and usually don't forget it. So I guess I got a good learning regimen from college, but the specific information utilized in answering correctly is mostly from my extracurricular reading, documentary watching and general nerdery.
I graduated from Macalester College in St. Paul, Minn., with a BA in history. I would've ended up with a music major as well, but I slept through my final piano test and when they offered to let me reschedule it, I thought, "Eh, it's the end of school. I've already got one major. I'm getting the diploma anyway. Do I really need the other major?" So yeah, one real major, one minor that could've been a major if I cared. But I didn't.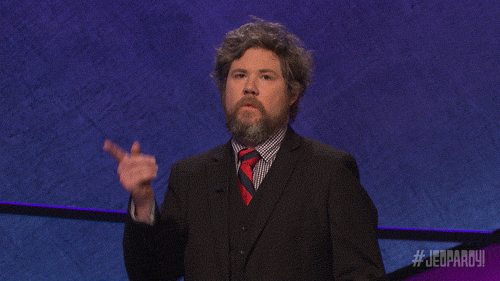 4. This Isn't His First Time on Stage
I'm no stranger to the stage, so I feel absolutely no pressure. Having performed stand-up, and hosted auctions and fundraisers as MC – including a theater fundraiser for several hundred people at Studio 54 – and other on-camera appearances, I don't feel overwhelmed at all.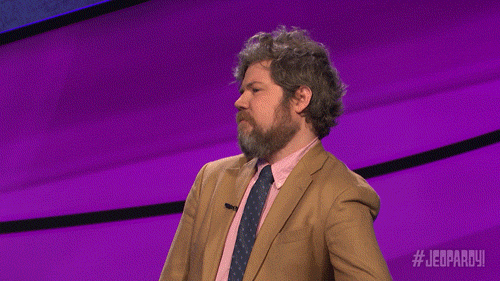 5. He Underwent Extreme Buzzer Training
My friend and owner of the bar at which I work got me a calisthenic thumb exerciser thing and I used that as my mock buzzer since a pen doesn't have the right amount of resistance.
6. He Did His Research
I watched countless back episodes of Jeopardy! Since I don't own a TV, I hadn't seen a complete episode of Jeopardy! probably since college, so like, 18 years ago or so. So I watched dozens of episodes from as early as the '80s up until recently, sort of in no particular order, and I began to see the Jeopardy! "Easter eggs" – repeated motifs. Like, I saw two episodes [from different decades] and they both said, "Blah, blah, blah, Romanian playwright." Each time both contestants rang in and said, "Who is Ionesco?" I still have no idea who Ionesco is, but if I'm ever confronted with "Romanian playwright," I know the intended answer.
In between bingeing back episodes, I'd watch film adaptations of Shakespeare plays, Jane Austen novels and other things I know I've read but I definitely didn't remember. It didn't help because I still can't remember which one's "Pride and Prejudice" and which one's "Sense and Sensibility." I definitely got one of those wrong. Stupid Austin mistaking his Austen.
7. He Prefers to Play the Gameboard From Top to Bottom (Literally)
Okay, so the "Forrest Bounce" seems to be a stupid strategy for a couple reasons. First, in wordplay, silly categories, often you'll need 1-2 clues to get what they're looking for. Second, by bouncing ahead you could reveal a clue that was an answer earlier in the round. Finally, bouncing around and landing on a Daily Double early in the round without ample cash to bet is so lame. I guess you could say eliminating the Daily Doubles from other contestants might be a decent strategy, but it isn't cool if you want to crush them and/or make a ton of money.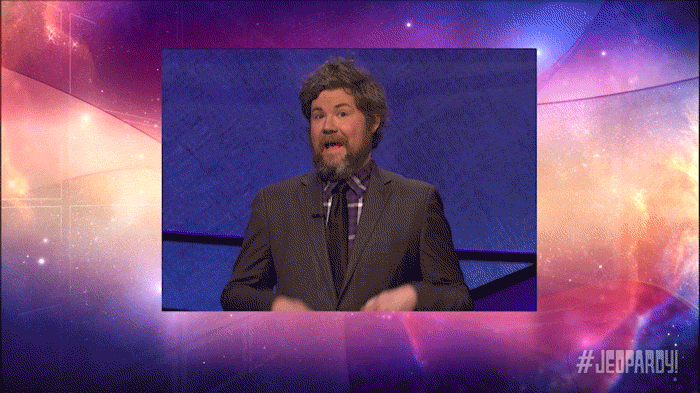 8. He Always Remembers to Mime – Sort Of
So, here's the thing. The first couple of times, I realized there's a ton of time to stand there and grin like an idiot as they announce winnings, names, etc. So I'm like, "I got to kill this time somehow. It's awkward." But when they start introducing the next victims – sorry, contestants – I always think, "I forgot to prepare one of the pantomimes!" So 90% of those are completely improvised in a near panic.
So with the exception of his mimes, Austin has definitely come prepared for Jeopardy! But is he prepared to keep his record-breaking streak alive? Tune in to find out!