High School Reunion Tournament Champ Justin Bolsen Reflects on His Return to the Alex Trebek Stage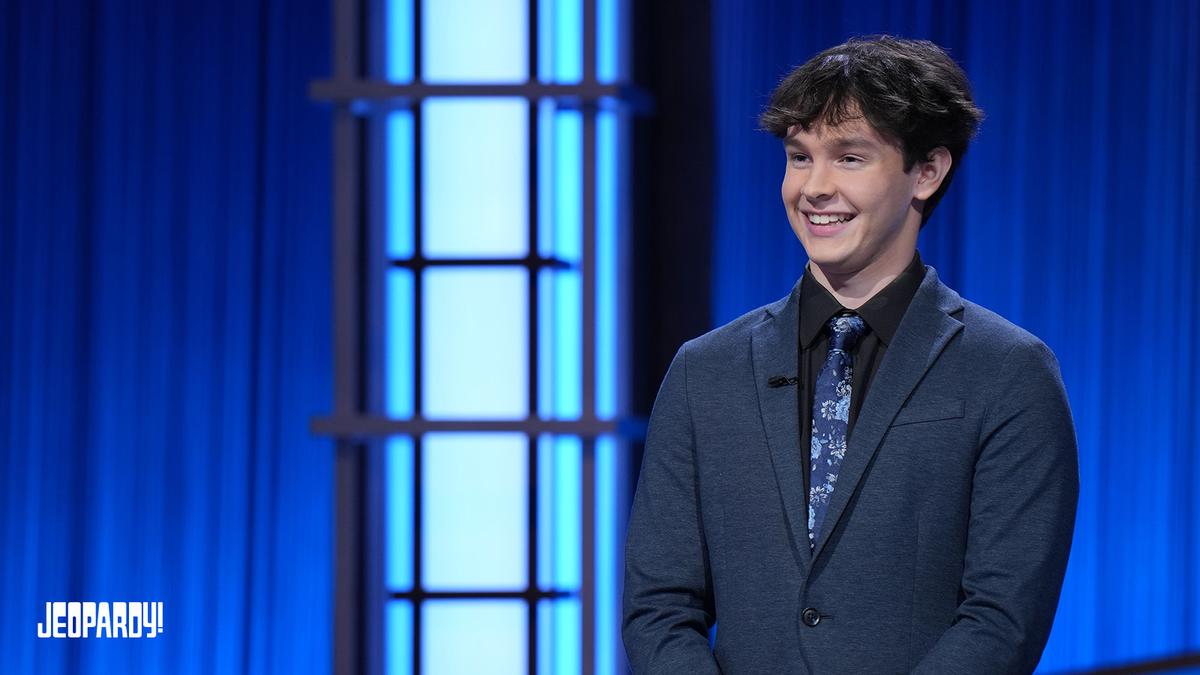 On the flight back to my dorm in Providence, everything I had experienced from the past week started to set in.
It wasn't just that I had finished competing on Jeopardy! for the second time, or that I had managed to eke out a victory over Jackson [Jones] and Maya [Wright] in the finals and take home the grand prize, or that I would have to somehow hold it together around my friends and family and act like nothing happened until the tournament finished airing. What hit me was that, over the previous six days, I had just had the time of my life.
That's because, over those six days, I had the opportunity to stay in a hotel and procrastinate on my schoolwork with some of my closest friends — i.e., my fellow contestants — reconnect with them and hear about everything going on in their lives over the past few years since the last time we met on the Alex Trebek Stage. I was able to meet several people from the 2018 Teen Tournament who had been mythologized in my mind, and I was able to talk to them like they were old friends from high school. Jeopardy! billed this tournament as a high school reunion, and I don't think they could've been any closer to the truth. I was so glad to be reunited with everybody from these past two tournaments. They're truly awesome people.
Over the course of that blur of a week, there are more than a few accomplishments that I'm extremely proud of — winning it all comes to mind. But of the others, getting back to the Alex Trebek Stage and being ready to compete in the first place is a close second. That's because, after my original appearance finished taping in my freshman year of high school, I had largely slowed down on learning trivia. In my mind, with Jeopardy!, I had basically reached my "trivia" peak — a culmination of the three years I had spent doing quiz bowl in middle school. So when I got the call that I'd be coming back to play, I was floored. I also felt woefully unprepared: How was I supposed to know that Jeopardy! wouldn't just be a once-in-a-lifetime ordeal? How was I going to get myself back up to speed with the years and years of trivia knowledge that I knew my competitors were going to throw at me? The answer, I hoped, was to start studying and pray for the best. Ultimately, I stepped onstage knowing that I had prepared myself as well as I possibly could over the months between getting the call and taping, and I'm proud of that. I will thank Lady Luck endlessly for her contribution to my victory, but I can't give her all the credit.
Now, with the Tournament of Champions rapidly approaching, I have even more time to expand upon my knowledge base. Whether those efforts can even begin to scratch the surface of any of the super-champions' depth of trivia expertise remains to be seen. But just as I did for High School Reunion, I'm simply going to try my best to absorb as much information as possible. I might be closer than one might think, too: I'd argue my buzzer skills and wagering strategy are already on par with some of the Jeopardy! Contestants I've seen so far this season, so if I can just match their expertise, then I think I've got a chance. Thankfully, my fellow HSRT contestants have been a huge help, and the pressure that I feel to represent them well is strong, so I have plenty of motivation to succeed. And, whatever happens in the ToC, I know I'll have 26 other super-smart trivia whizzes rooting for me. That's a good feeling.
Here's to second chances!