Justin Bolsen Wins the 2023 Jeopardy! High School Reunion Tournament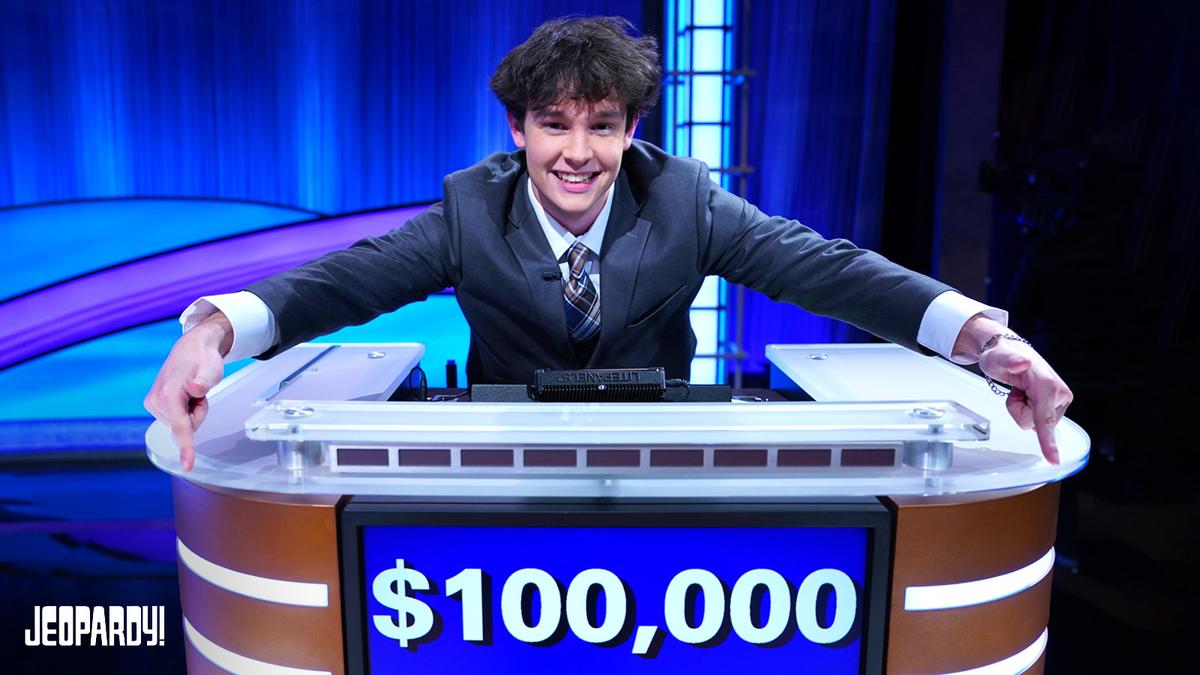 Justin Bolsen is at the top of his class: He's the winner of Jeopardy!'s first-ever High School Reunion Tournament!
The first-year student from Brown University took home the win on Thursday after a two-day final against fellow contestants Maya Wright and Jackson Jones. Although all three competitors responded correctly to Thursday's Final Jeopardy! clue, Justin's strategic wagering led him to a two-day total of $35,361 — $363 more than Jackson's second place total of $35,198; Maya finished in third place with $24,610.
At only 18 years old, Justin is one of Jeopardy!'s youngest and brightest contestants this season. He credits his dad for sparking his curiosity about a variety of topics. "[My dad] still makes me read the news, so I still have to keep up with things that are happening," Justin shared.
While Justin said he appreciates his dad's endless support, he worried there would have been too much pressure if his dad had been in the audience during the tournament.
"I was like, 'Hey dad, if you're not here it's OK,' and he called me a week or so ago and said, 'I just want to say you better not have won this thing because I'll be really mad [I wasn't there],'" said Justin. "So now I'm here, like, 'Uh oh.'"
Fortunately for dad, there'll be another opportunity to see his son on the Alex Trebek Stage: Justin is headed to the next Tournament of Champions, where he'll go up against super-champions like Cris Pannullo and Ray Lalonde. "I can only hope to do my best against them, but we'll see what they have in store for me," Justin said of his future ToC competitors.
Regardless of what happens next, it's safe to say Justin has 26 fellow contestants rooting for him.
"They're all so supportive, so smart, so sweet," said Justin, describing his fellow High School Reunion Tournament competitors. "I hope our connections will last far into the future."