Who is... Jeopardy! Blind Guesser?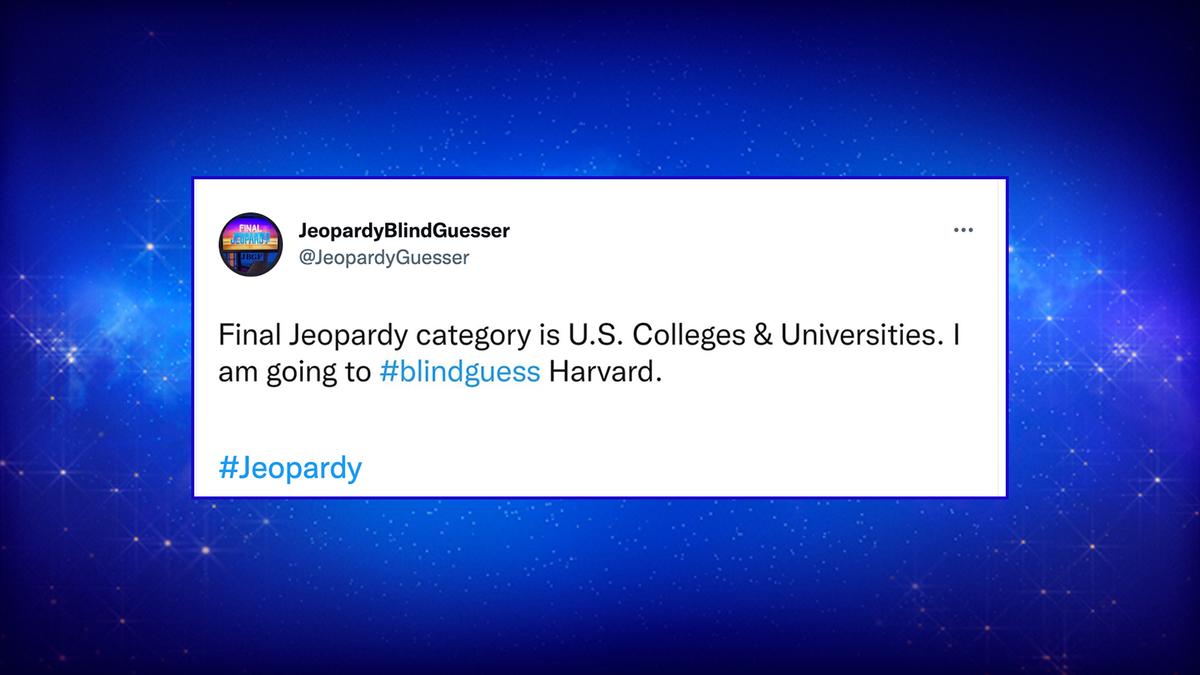 For as long as Ariella Beer, the savvy thirtysomething who heads up the popular Twitter account Jeopardy! Blind Guesser, can remember, Jeopardy! has been appointment television in her household. And years ago when her younger brother Alon decided to guess the Final Jeopardy! clue based solely off the category, it quickly became a "thing" that she and her family did every night.
"My brother actually came up with the concept for our family when we were very young," Ariella recalled. "He's very competitive and one night I remember he said, 'You know, I bet you I can guess the Final Jeopardy! question just based on the category.' I thought he was crazy. But then I said, 'I bet you I can too.''
In June of 2016, the Beers decided to share their love for blind guessing Final Jeopardy! with fellow fans online and launched their Twitter account under the handle @JeopardyGuesser. 
"When we created this account it was out of love, a love for a show that brought our family together no matter what," Ariella said. "We thought it would be interesting to see if there were other people out there who blind guessed like us or who had a version of blind guess."
Since then, the Beers have surpassed their own expectations and connected with thousands of fans within the Jeopardy! online community who enjoy blind guessing.
The @JeopardyGuesser Twitter account currently has over 13,000 followers.
"The truth is when we thought about starting the account we really didn't think that it would grow to be this big," Ariella said. "Obviously, Jeopardy! is such a huge part of a lot of people's lives. But I remember just getting excited when we had just a few followers because it meant that people liked what we were doing and that they wanted to have some fun too."
More than 100 past contestants have joined in the fun and followed the account, including former champions Alex Jacob, Austin Rogers, Brad Rutter, Buzzy Cohen and Amy Schneider, to name a few.
"The first contestant who followed us was Alex Jacob," Ariella said. "He started following us, I think, before we even hit 50 followers and has been such a wonderful supporter."
"Buzzy Cohen actually blind guesses with us sometimes, which is exciting because we just adore him," Ariella continued. "And Amy Schneider followed us after we tweeted out how much we enjoyed watching her on the show during her streak."
While the Beers are aware that there are many ways fans blind guess, there are a few simple rules to play along with their family's account:
Every weeknight, with the exception of Fridays, Ariella tweets out the Final Jeopardy! category along with her family's blind guesses. Participants then respond to her tweet with their blind guesses. After the show airs in each time zone, Ariella sifts through the account's notifications to see which of their followers blind guessed correctly.
"In New York City the final category comes on at about 7:23 PM. So, around that time I check to see what the last notification I got was because we get them by the hundreds," Ariella explained. "We have the 7:30 PM watchers, the West Coast, Canadian watchers that will guess with us, and then the middle of the country. We want to respect every time zone, so that's why we don't usually tweet out the correct guess until the next day."
For every correct blind guess @JeopardyGuesser receives, the account sends out personalized congratulatory messages.
"As the account has grown, a lot of times it will take me a couple hours to @ all those accounts," Ariella said. "Sometimes we miss one or two, but we always tweet out apologies. And if we've missed your account's blind guess, please just message us and we'll make sure to check your account and confirm you got it correct."
While checking their followers' responses can take a bit of time, it's a big part of the fun in managing the account, Ariella said. 
"It's so interesting what people will blind guess," Ariella said. "Just random stuff because you don't always know what it is from the category. Are they talking about the book? Are they talking about the character or the person? There's so many ways that blind guessing can go that so many of the answers are out there."
There is no rhyme or reason to blind guessing, but Ariella said the best advice she gives their followers is to "always go with your gut" and make sure to have fun.
"It's the same thing my mom used to teach me when I was studying for tests," Ariella said. "Your first gut is usually the answer. Once you start changing it, you begin to second guess yourself."
"Just have fun with it," Ariella continued. "There's no pressure, and there's no prize except for knowing that you got it right."
The Beers are extremely proud of the online community they've built by sharing their family's tradition. But, most of all, Ariella said, they are just happy to have found their people — fans who love Jeopardy! as much as they do.
"We try to interact with people and participate in conversations about the show because it means so much to us," Ariella said. "There's no place as special as Jeopardy! Twitter."