Mattea Roach's Incredible Jeopardy! Streak Ends After 23 Wins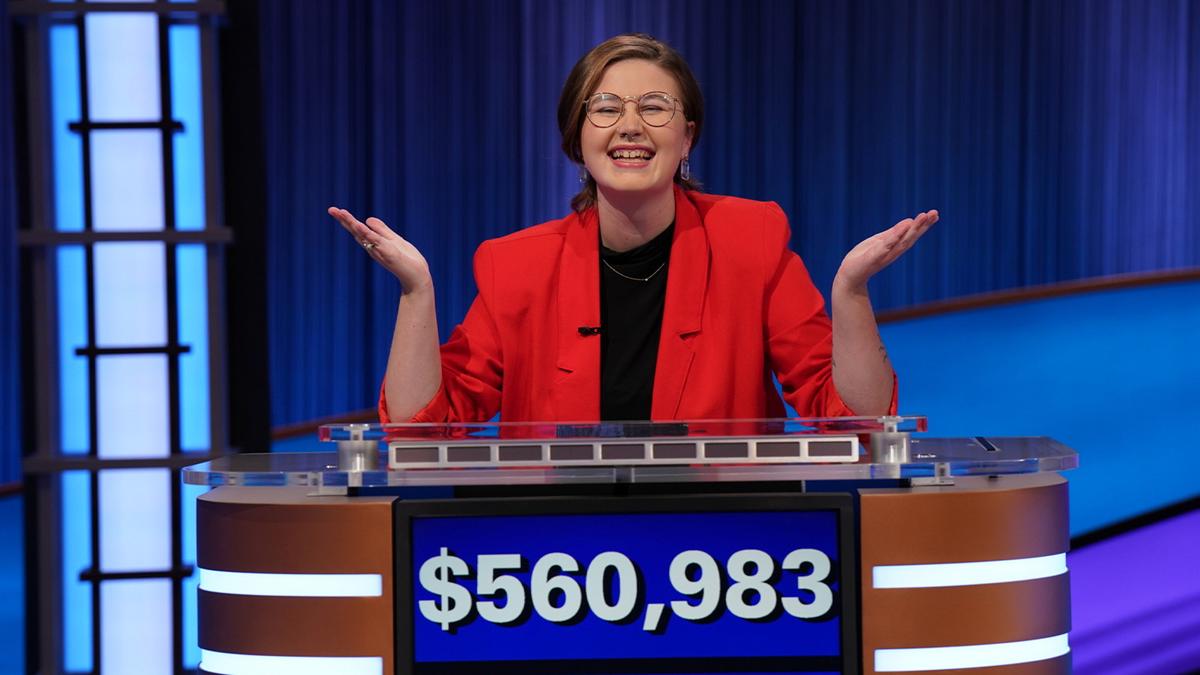 After winning 23 games in a row and earning a total of $560,983, it is time for Mattea Roach to step down from her Jeopardy! contestant podium.
Danielle Maurer, a digital marketing manager from Peachtree Corners, Georgia, defeated Mattea on Friday by $1 and finished in first place with a total of $15,600.
"It was one of the most incredible experiences of my life," Danielle said. "To not only get in there and win, which I was thrilled and excited about, but for me to have it be against a 23-day champion."
Heading into Final Jeopardy!, Mattea was in first place with $19,200 and Danielle trailed behind her in second place with $11,400. The game shifted in Danielle's favor when she wagered $4,200 and came up with the correct response, while Mattea, who wagered $3,601, did not respond correctly. 
"It feels still kind of like a dream," Mattea said. "I really came down here hoping to maybe win one game and so I still can't believe it. You know, it's strange, obviously I didn't come through in the last one, but I still feel so happy and so lucky to have had this experience." 
Mattea finishes her incredible run holding down the No. 5 spot on the all-time consecutive games list and the all-time highest regular season winnings list. Only Jeopardy! legends Ken Jennings, Amy Schneider, Matt Amodio, and James Holzhauer have won more games or money during their time on the show.
"When I think of the caliber of those four players, I really don't feel like I deserve to be mentioned in the same breath as them to be honest," said Roach. "And there's a noticeable financial gap between my money and theirs, but it's an amazing accomplishment. Like, I can't believe it. It's such a huge honor that I am being spoken of in relation to people like Ken, James, Matt, Amy. It's… wow. There's no words." 
While Mattea broke several records during her 23-game streak, there is one accomplishment that the Canadian super-champ says she is most proud of – surpassing her Jeopardy! idol, Julia Collins' 20-game record, for consecutive game wins. 
"It means a lot to be a successful woman on Jeopardy!," Mattea said. "Like, I think for such a long time it's been all of these GOATs that are men and they're wonderful and they're amazing players, but like, why is it all men? And you know, now there's Amy and farther behind, me and Julia, and it's like, great to see."
In addition to being one of the most successful women in the show's history as well as the most decorated Canadian player of all time, Mattea said she wants to be remembered for her authenticity. 
"I hope that people remember me as a player that was a lot of fun to watch and a player that created some interesting television by not having that many runaway games," Mattea said. "I was having the time of my life up there."
Mattea will return to the Jeopardy! stage to compete in the upcoming Tournament of Champions where she will face off against some of the biggest players of the season, including Matt Amodio and Amy Schneider.