Jason Sterlacci Wins 2016 Teachers Tournament, $100K Grand Prize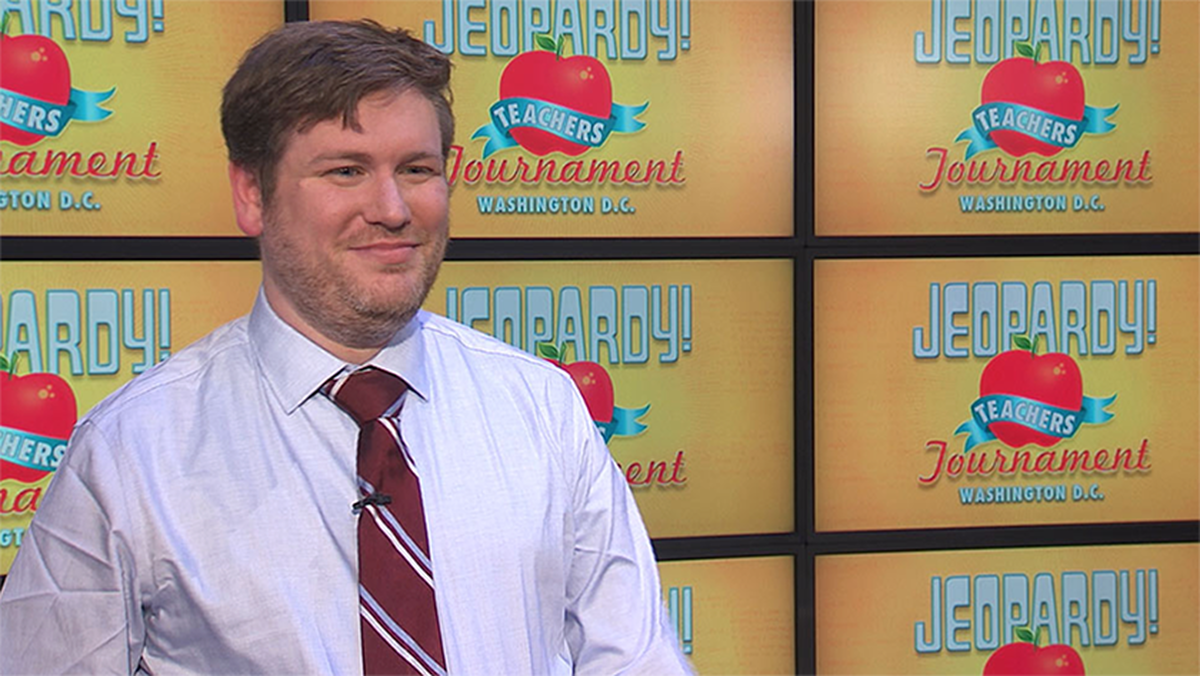 Congratulations to Jason Sterlacci! After two weeks of competition, starting in Los Angeles and then moving to DAR Constitution Hall in Washington, D.C., we're proud to crown this champion. Not only did Jason win, but his victories were often by large margins, including a locked game in the semifinals that secured his place in the two-day final. When it was over, Jason was awarded the $100,000 grand prize as well as a $2,500 grant from Farmers Insurance, which he will use to enhance his students' education.
For as much teaching as our teacher-contestants do, it's exciting to see them learn a new skill – like how to win on Jeopardy! Our champion, Jason Sterlacci, learned quickly.
In the Double Jeopardy! round of his quarterfinal game, Jason gained a big lead on a key Daily Double and nearly had the game locked going into Final Jeopardy! His fast start could be attributed to watching the game since he was 6 years old and constantly quizzing himself to prepare for his appearance. After the win, his relief was apparent.
The semifinals didn't start as hot for Jason. But with one category remaining on the board in Double Jeopardy!, Cory Harris uncovered a Daily Double and wagered $9,700 of his $9,800, much to Alex Trebek's surprise. Cory responded incorrectly, and Jason went into Final Jeopardy! with a runaway game and a guaranteed spot in the two-day final – a brief respite from the intense competition.
Another highlight from the semifinal round occurred during the round's first game when SLOTUS Dr. Jill Biden read the Final Jeopardy! clue.
Day one of the two-day tournament final was a fresh start. But despite impressive performances in the earlier rounds from finalists Kaberi Chakrabarty and Jill Gilbert, the finals saw more of the same from Jason. He got out to a fast lead and wagered wisely to hold on. Case in point: Up $8,500 going into Final Jeopardy!, Jason wrapped the day with an even greater margin – $12,601 – as he was the only contestant to respond correctly. After the game wrapped, his reaction and disposition suggested the pre-tournament jitters were gone. Now he was poised to win, and with that came a new wave of pressure.
When Alex Trebek walked on stage to start day two of the finals, and with $100,000 on the line, Jason's face curled into a little smile. His confidence seemed to have blossomed, and it couldn't have come at a better time. Jason was devoid of any previous anxiety as he got off to his typically strong start and, with just over a full category on the board in Double Jeopardy!, everyone in DAR Constitution Hall could see him light up. The emotion of knowing he had won, even with a handful of clues on the board, was catching up to him.
Jason Sterlacci had won the 2016 Jeopardy! Teachers Tournament as well as a check for $100,000 and his $2,500 grant, provided by Farmers Insurance. We had a lot of questions for Jason after his win, but the first one was about his last Final Jeopardy! response. "Who is Charles?" we wondered. Here's what he told us:
Before the final day began, Jason was backstage taking a bathroom break between shows. When he came out of the bathroom, his tie knot was askew, but he'd been too nervous to pay any attention to it. One of our security guards in charge of keeping the contestants sequestered – a man named Charles – noticed the tie and offered to help straighten it out for him. This gesture, Jason said, "was the thing that calmed me down – that somebody had my back." In fact, the moment so affected Jason that he made a point of thanking Charles on national television during Final Jeopardy!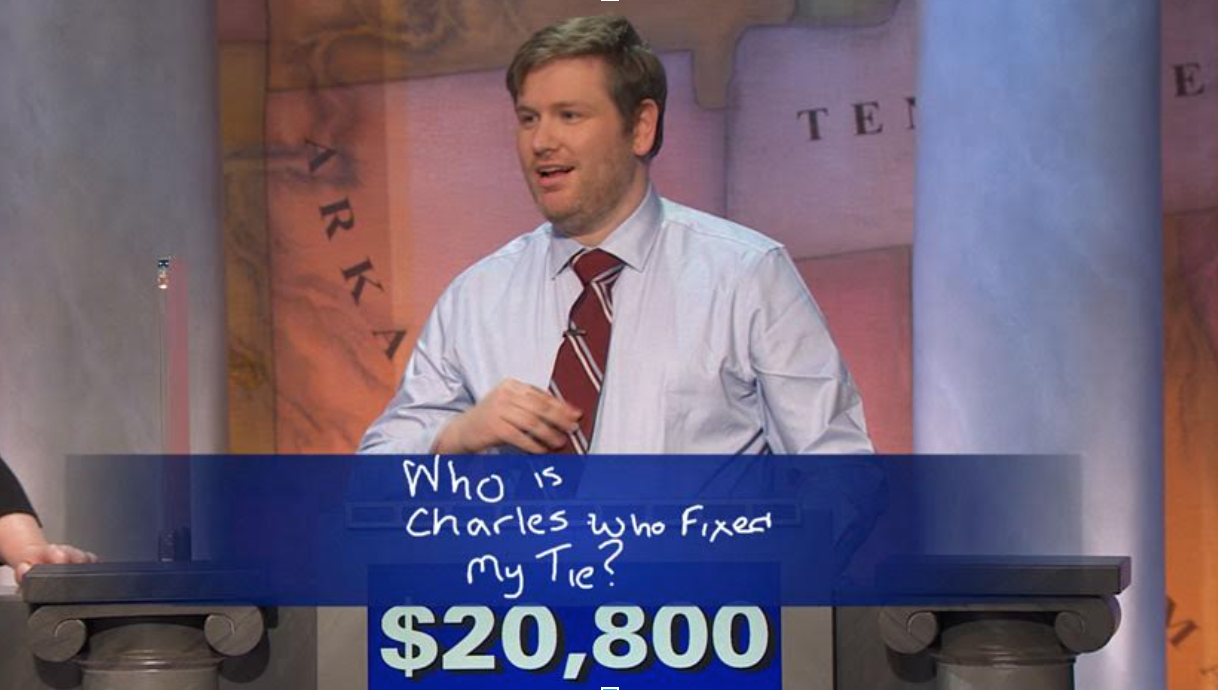 When asked about how his students will react to his win, Jason simply said, "It's going to be a party." For all the highlights from the 2016 Jeopardy! Teachers Tournament's two-day finals, watch this:
>