Congratulations, Sharath, 2016 Teen Tournament Champion!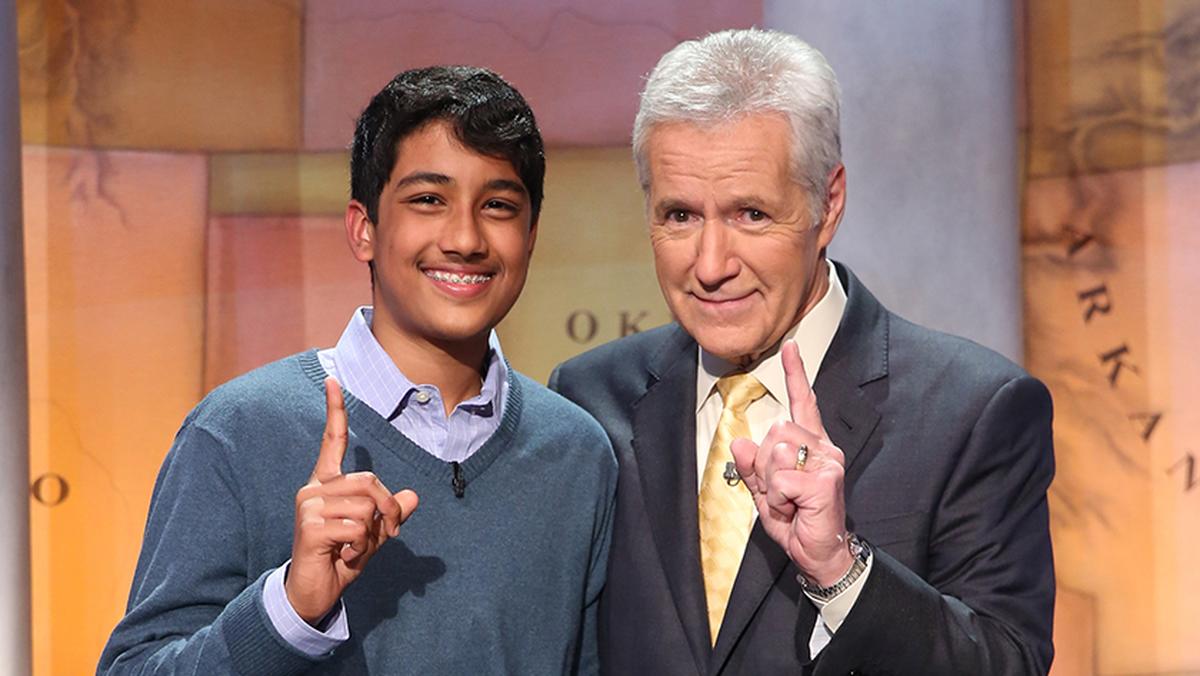 Combining his big lead from the first game of the finals with a strong finish in the second game, Sharath Narayan wagered a savvy $1 greater than Alec Fischthal's greatest possible total in Final Jeopardy! But it wasn't until Alec's response and resulting score was revealed that everyone realized that Sharath had taken the overall win. The result was a big family victory for Sharath, Jeopardy!'s newest Teen Tournament Champion, whose parents embraced in the audience.
Sharath's wagering strategy wasn't an accident: Once he knew he'd be on the show, Sharath thoroughly researched show history and came up with a game plan. "Two of the main things I made sure to prepare for before the tournament were wagering strategy and buzzer technique, because I knew that these two were vital to winning as many games as possible," he said.
But even with all that preparation, Sharath was incredibly humble in victory. "I'm stunned," he said. "I didn't even know I was going to get on the show, let alone make it this far," he said. "I never really imagined I could get to the finals." Sharath kept focused one game at a time. "It was just step after step." And the first step presented him with his first challenge.
In his quarterfinal game, Sharath was matched up against the formidable Michael Borecki, who showed a penchant for picking – and giving correct responses to – the $800 clues on the board, as well as finding Daily Doubles. Michael edged out Sharath in this game for the win, but Sharath's ending score of $22,801 in this quarterfinals game buoyed him into the semifinals as a wild card. It wasn't the last time Sharath would face Michael, who ran away with his semifinals game for a seat in the finals.
Sharath's semifinal game was a come-from-behind win, as he sat in second place in Final Jeopardy! behind Lucia Geng's score. Getting the benefit of her incorrect response, Sharath lucked out with a Final Jeopardy! clue that pulled from "Lord of the Flies," a book he had coincidentally finished reading the previous week.
Following Michael and Sharath's semifinal wins, Alec escaped his semifinal game with a very fortunate wager and the stage was set.
Sharath played a very good first game, rarely responding incorrectly, and betting conservatively. "In the finals, I knew that Michael would be actively seeking out Daily Doubles, so I tried to find them as well and bet small so that they would be out of the way quickly," Sharath said. Michael wagered everything in Final Jeopardy!, but missed the clue and dropped down to zero for the game. Sharath, on the other hand, finished with a $11,500 lead above Alec.
From that moment on, it seemed that Sharath employed a strategy used by several Champions: letting Michael and Alec battle it out for clues, and getting in whenever he was certain he had the correct response. That all led to the Final Jeopardy! wager that won Sharath the game by the slimmest of margins: one dollar.
Sharath's big plans for his $100,000 winnings? His main interest was travel, but he also opted for practical expenses. "I'd still like to go on a trip to Europe with my family (maybe Italy or Germany!)," said Sharath, "but the majority of it will probably go towards taxes and college tuition."
Though it was competitive, the Teen Tournament created a bond for the contestants. "While we were on stage during the commercial breaks, all three of us (Michael, Alec and I) were very excited to just be in the finals, and we knew that no matter who won, we would all keep in touch," Sharath said. "In fact, all 15 of us have kept in touch since then, and we talk to each other on a regular basis."
As for Sharath, himself, he has found his victory as a source of strength. "I'm definitely more confident now since I won the tournament, and it showed me that I'm able to surprise myself and accomplish things that I never would have thought possible," he said.
Congratulations, Sharath!