Why These Jeopardy! Contestants Deserve a Second Chance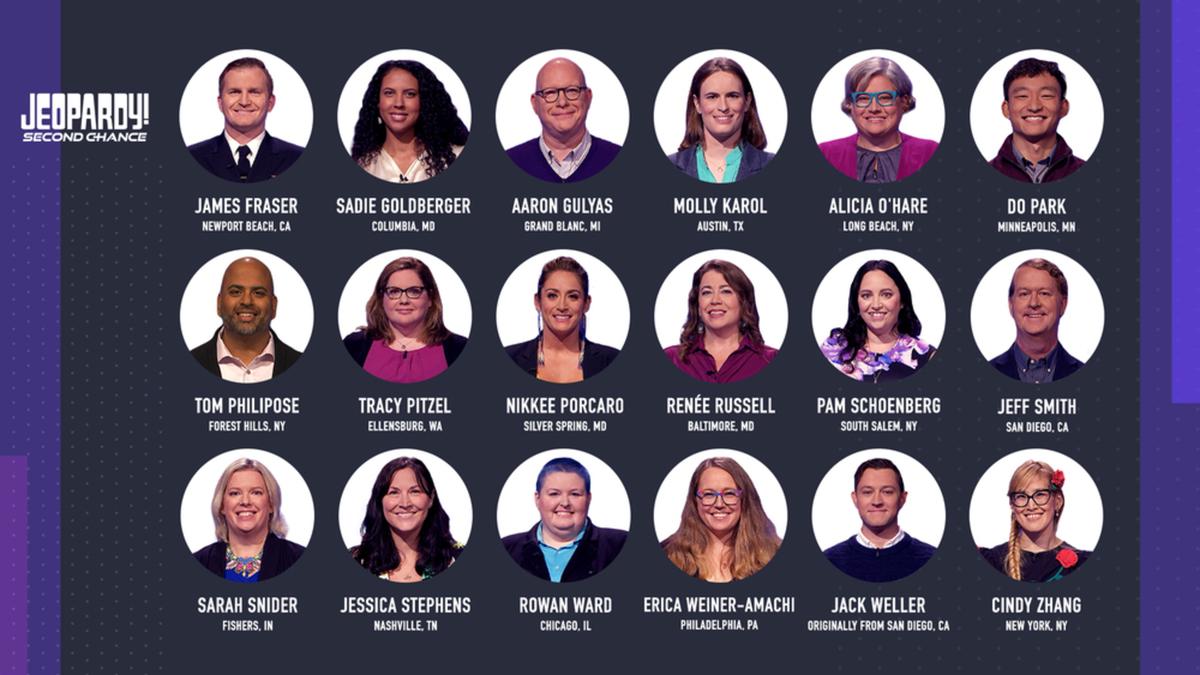 For the first-time ever, 18 contestants who came up short during their original game have been invited to return to the Jeopardy! stage for another go-round at becoming a champion.
Jeopardy! Second Chance will take place over the course of two weeks. Each week will feature three semifinal games and a two-day final. The winner of each week's mini-tournament will earn a spot in the upcoming Tournament of Champions, which begins Monday, October 31. 
Refresh your memory of the players and find out why they earned a second chance with these highlights from their initial appearances.
Week 1 Contestants
Cindy Zhang, a user experience designer from New York, N.Y. (Season 38)
Aaron Gulyas, a community college history instructor from Grand Blanc, Mich. (Season 38)
Jessica Stephens, a statistical research specialist from Nashville, Tenn. (Season 38)
Erica Weiner-Amachi, a teacher from Philadelphia, Pa. (Season 38)
Tracy Pitzel, an accountant from Ellensburg, Wa. (Season 38)
Molly Karol, a certified public accountant from Austin, Texas (Season 38)
James Fraser, a naval aviator from Newport Beach, Calif. (Season 37)
Renée Russell, a branch office administrator from Baltimore, Md. (Season 38)
Pam Schoenberg, a dentist and entrepreneur from South Salem, N.Y. (Season 38)
Week 2 Contestants
Sadie Goldberger, an interpreter from Columbia, Md. (Season 38)
Alicia O'Hare, a social worker from Long Beach, N.Y. (Season 38)
Do Park, a sportswriter from Minneapolis, Minn. (Season 38)
Tom Philipose, a writing professor from Forest Hills, N.Y. (Season 38)
Nikkee Porcaro, an educational consultant and business owner from Silver Spring, Md. (Season 37)
Jeff Smith, a music educator from San Diego, Calif. (Season 38)
Sarah Snider, a teacher from Fishers, Ind. (Season 38)
Rowan Ward, a chart caller, writer, and editor from Chicago, Ill. (Season 37)
Jack Weller, a law student from San Diego, Calif. (Season 37)