Andy Tirrell Discusses Taking Down Super-Champion Cris Pannullo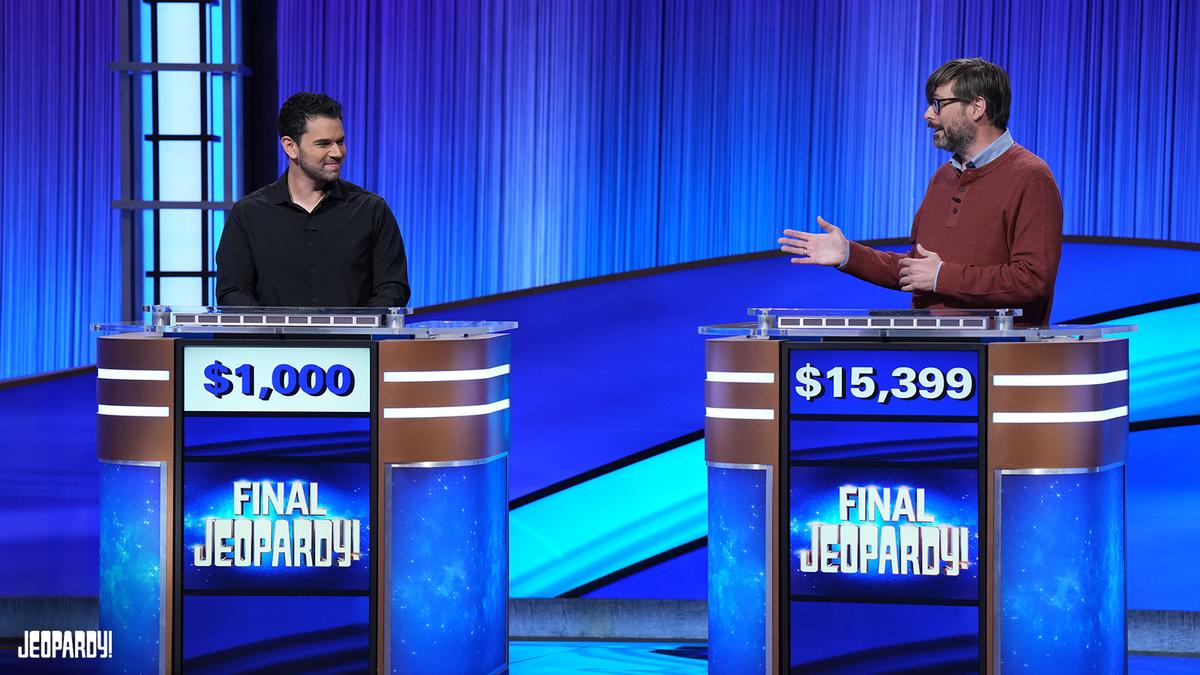 When Andy Tirrell began preparing for his Jeopardy! appearance, he had no idea he would take down 21-game super-champion Cris Pannullo. 
"I stopped watching in the weeks leading up to my taping because I didn't want to psych myself out," Andy said. "I was still doing other types of prep, you know, looking at past games, but I didn't want to look at what was happening now."
It wasn't until the political science and international relations professor arrived at the studio for his taping that he learned of Cris' streak and saw him in action.
"I watched the game before mine as part of the audience, and just seeing him [Cris] really freaked me out," Andy recalled.
Despite his nerves, Andy said he was determined to give it his all during his initial game last Tuesday. And finding his resolve paid off: Andy started the game in the red, but was able to turn things around in Double Jeopardy!. After picking up a Daily Double and coming up with the correct Final Jeopardy! response, he won the game against Cris and Meghan Mello with a total of $15,399.
"I was a loose cannon in the beginning [of the game], just going for things," Andy recalled. "But some of the wonderful folks on the staff came over to me during the first break and told me to take a deep breath, and [that] really helped [me] to step back and reset."
As a lifelong fan of the show who began watching as a child with his mother, Andy said getting on Jeopardy! was a dream — and defeating a super-champion like Cris made the experience all the more surreal. 
"I was in disbelief really," Andy said. "[Cris] was such an amazing player. And he was so composed, and seemed to have such a broad base of knowledge. It was a real honor to be there with him. And with Meghan too, she was incredible as well."
One of the best parts of becoming a Jeopardy! champion was sharing his victory with his loved ones.
"My mom sent me a video of her screaming in front of the TV," Andy said. "She had no idea because I really took it seriously and was like, 'I can't tell anybody anything.'"
"It was nice to see her have a moment of that kind of pure joy," he continued. 
As for advice he'd offer future contestants going up against super-champions, Andy shared that there's actually no tried-and-true strategy: "It's something you just have to figure out in the moment and hopefully you're cool under pressure, have tons of stamina, and all the knowledge."