Slaying a Jeopardy! Giant: Danielle Maurer Talks Defeating 23-Game Champion Mattea Roach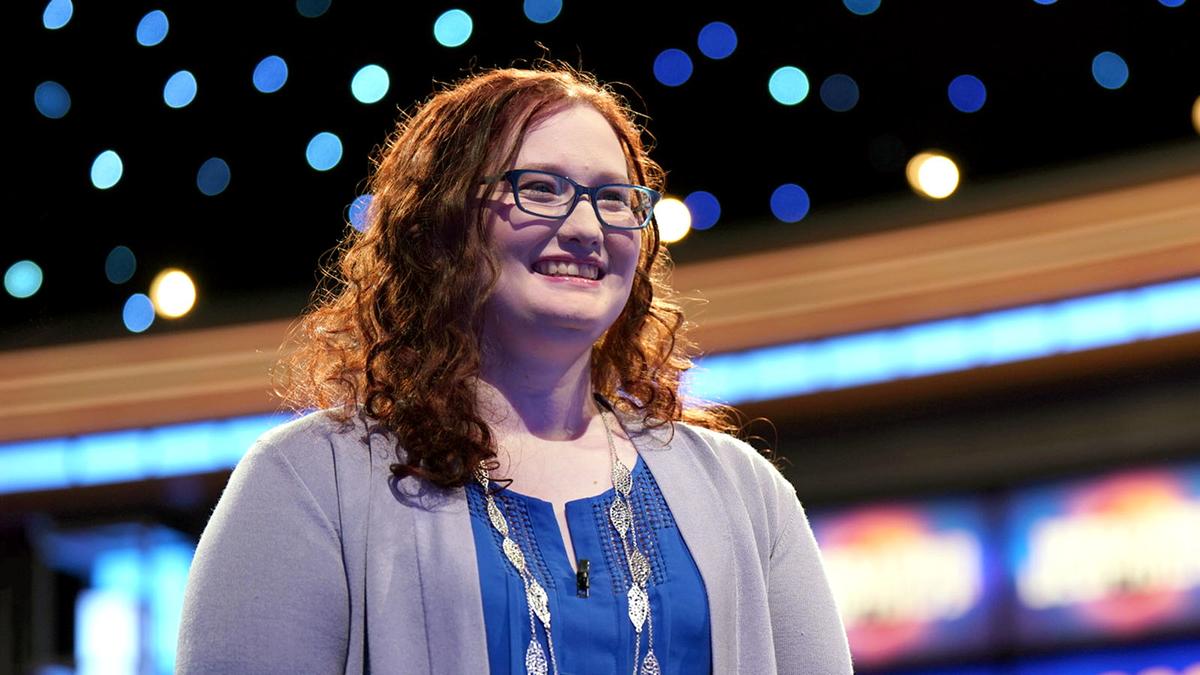 Danielle Maurer managed to do what so many contestants before her could not — she defeated 23-game winner Mattea Roach on Friday and was crowned the new Jeopardy! champion. 
After placing a calculated wager of $4,200 and coming up with the correct response in Final Jeopardy!, the 31-year-old digital marketing manager from Peachtree Corners, Georgia, took down the long-running Canadian champion and won the game by $1 with a total of $15,600 in winnings. 
"I was just standing up there with my pen and paper thinking this is the most important math that I will ever do in my life," Danielle said. "I knew Mattea would bet to defend. She will bet as if I'm going to bet everything. So if she gets it right, I lose. There's no win scenario there for me. So, I'm going to bet as if she gets it wrong because that's the only chance realistically that I am going to have."
Danielle's intuition proved to be right in the end. Mattea, who placed a wager of $3,601, was unable to provide the correct Final Jeopardy! response and finished in second place with a total of $15,599. 
"I did not expect to win going in there until they revealed her answer, and then I could just feel my heart start pounding," Danielle said. "I'm from Atlanta, I've lived here for almost ten years. Hartsfield-Jackson International Airport is the airport I fly out of constantly. So, I looked at that clue like surely it can't be that easy, can it?"
(Reminder: Final Jeopardy! clues are written well in advance and selected randomly.)
Figuring out what to do with her prize money was also a no-brainer, the new Jeopardy! champion said. 
"I have a basement that needs finishing," Danielle said. "I do cosplay work and the basement is supposed to become my craft room. So, that's a pretty good payment to get it completed."
As a lifelong Jeopardy! fan, who has been trying out to be a contestant since she was 13, Danielle said winning her first game while slaying a giant like Mattea in the process was a monumental accomplishment.
"I have been trying to get on the show for more than 15 years," Danielle said. "This is something that I'm going to carry with me the rest of my life. It means more to me than I can say."
When Danielle found out she was going to be a contestant, she said she knew there was a "strong possibility" that she may have to face off against a super-champion and she wanted to be prepared.
"I had been following the season. I knew about Matt. I knew about Amy," Danielle said. "In fact, Amy's episodes were airing when I got the call. So, we sort of practiced as if I was playing against Amy."
Danielle spent countless evenings playing Jeopardy! with her husband and best friend using clues from previous games.
"We would check my results against Amy's, like 'Oh well, Amy missed the Final, but you got it,'" Danielle said. "'So, you might have had a chance to take her there.'"
Amy Schneider's run had come to an end before Danielle taped her first game, but she said she knew all of her practice against the 40-game champ would come in handy when it was her turn to play against Mattea. 
"When I walked into the studio, and they were like, 'Our current 19-day champion Mattea Roach,' I could just see the color draining out of everyone's faces around me," Danielle said. "For me, I'm sitting there like — yeah that's about what I expected."
While Danielle admits it is intimidating to go up against Jeopardy! giant, she said she wants future contestants to know one thing: "It doesn't matter how well you do the day that you're on the show. Just getting there is such an achievement within itself."