Take Jeopardy! Home for the Holidays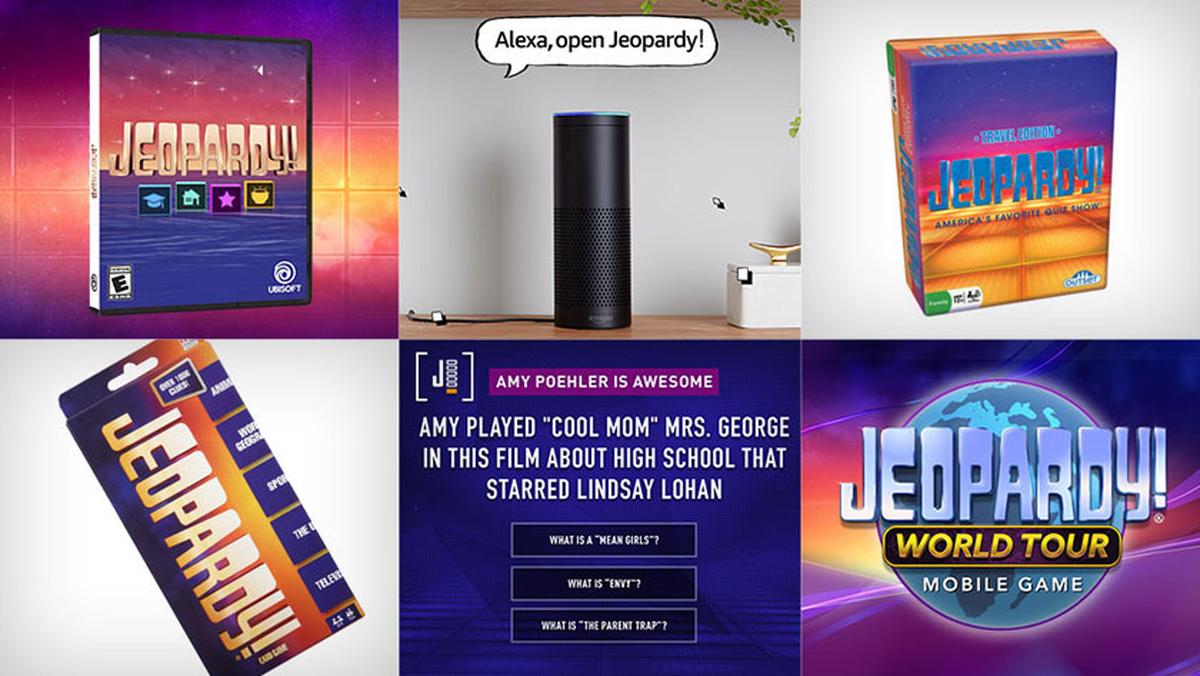 During the holidays, many of us hunker down and spend time with family and friends. Naturally, eating and watching Jeopardy! are among the first things that come to mind as crowd-pleasing holiday traditions. But time-honored customs must make way for new traditions, and – lucky for the J! fans in your clan – we have some less-than-conventional ways to keep your game sharp and your spirits bright long after the season is over.
J!6
If you haven't been playing J!6, the holidays are a great time to start. Our writers create an extra, sixth clue from each day's categories just for J!6. Come back every day to play that day's clues, keep track of your scores, and see how you stack up against your friends and family. For an extra challenge, play immediately after a turkey dinner.
Play now at Jeopardy.com.
Jeopardy! on Amazon Alexa
Take J!6 a fun step further with the Jeopardy! skill on Amazon Alexa. If you're a Prime member, you get a free subscription to double the fun with access to 12 clues each weekday. Test your knowledge and speed as you respond to clues in the form of questions. If you do better than your loved ones, just keep the bragging to a minimum – it is the season of peace, after all.
Get your Echo on Amazon, and just ask, "Alexa, play Jeopardy!" to get started.
Jeopardy! Video Game
Turn holiday squabbles into spirited competition with the new Jeopardy! game for PS4 or Xbox One. And since it accommodates up to three players, feel free to jump in and play along! Pick your favorite categories and play over 2,000 clues. It's the perfect holiday gift to wow your relatives and show off your buzzer skills. What's not to love?
Download it on your game console or find both the PS4 and Xbox One versions bundled with the Wheel of Fortune game on Amazon.
Jeopardy! World Tour
If you're stuck at the airport because of weather delays or your most exciting journey is to the store and back, take heart. Play the Jeopardy! World Tour mobile game and let Alex be your host on a virtual trek across the globe. Climb the leaderboard against your friends, family and other contestants around the world.
You can download it now from iTunes or the Google Play Store.
Jeopardy! Card Game
If you're looking for a "device-free" way to unplug and get some quality face time with the fam, the Jeopardy! card game is the way to go. No TV, no computer and no internet connection needed. The game includes over 1,000 clues from 20 categories, all from the show's producers. You choose the categories and you control the board – the only technology you need is your brain.
Find it at the Jeopardy! Store, on Amazon and at your local retailer.
Jeopardy! Board Game
Nothing says "bonding" like gathering around a board game for some good, old-fashioned fun. One player takes the role of host while the others compete to respond to clues. Just like the show, the game features Single Jeopardy!, Double Jeopardy! and Final Jeopardy! rounds. It is also available in a smaller, travel version as well as a deluxe edition, which features extra content and a metal ringer. (Go ahead – you deserve it.)
Buy it at the Jeopardy! Store, on Amazon or at your local retailer.
How do you and your loved ones enjoy Jeopardy! together over the holidays? Share your traditions and we may feature your story!