6 Big Moments of 2017 Teachers Tournament
The contestants of the 2017 Teachers Tournament have proven to be one smart, strategic bunch. With no shortage of big bets, comebacks and true Daily Doubles, the quarterfinals and semifinals have already had their share of stellar gameplay. Here are our six favorite moments to get you amped up for the finals.
1. A Run to Remember
Lesson: Even if you're in a distant third place at the end of the first Jeopardy! round, there's still time to shake it off. Eduardo Sevilla did just that, starting Double Jeopardy! at just $800 and then going on a tear to catch up. And it didn't hurt that Eduardo grabbed a big $4,000 Daily Double in there as well. Was it enough? Well, enough to get him to the semifinals as a wild card.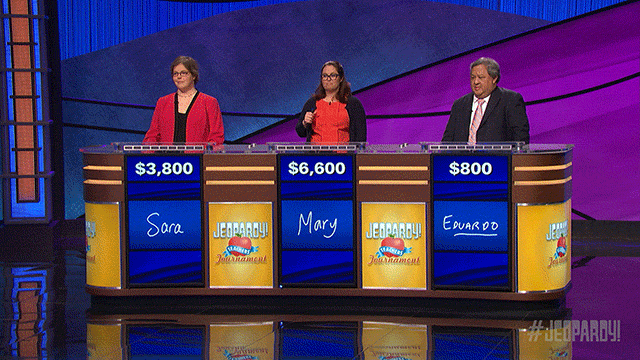 2. Wild Card Drama
Another contestant far behind in third place, Holly Cannon bet it all in Final Jeopardy! and gave the correct response. For the moment, she was in second place, and when the next player showed his incorrect response, it cemented her position. Imagine her delight when she found out live that she had gotten the final wild card spot to enter the semifinals. Actually, you can see it right here.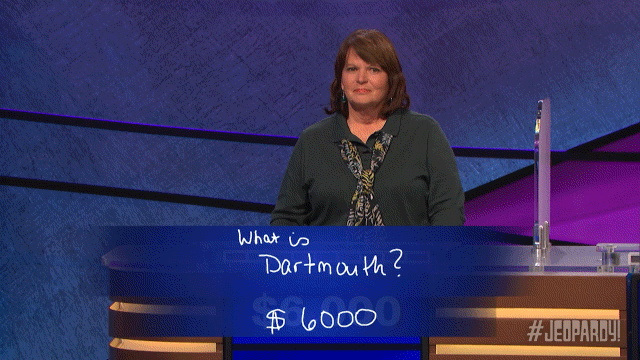 3. The Big Comeback
As Eduardo showed, there's always time to catch up in Double Jeopardy! Starting the round at -$400, David Clemmons quickly got out of the hole, and then hit a Daily Double with $6,000 in the bank. His emotions were pretty clear as he wagered it all, gave the correct response and was officially back in the game.
4. High Stakes Bring Big Bets
Everyone played to win in this Final Jeopardy! clue. And while awaiting his turn in Final Jeopardy!, David must have been sweating over Sara Holub's "telegraph" response – exactly what he had crossed out and replaced with "telegram." It seemed certain that Sara was going to win this game, but David's response was acceptable. Just like that, he gained admission to the finals.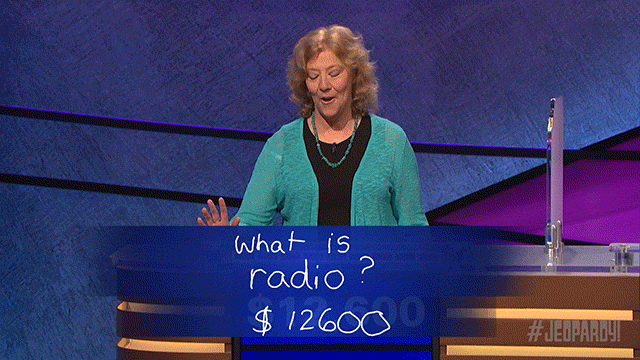 5. Testing the Leader
Eduardo wasn't going to let Nan Cohen run off with the win in this semifinal game without risking anything. He bet a dollar over her total score going into Final Jeopardy!, and was on his way to the win until Nan came back with a wager of her own: a dollar over Eduardo's largest possible wager. With the correct response, the game was hers. (Click to watch the video clip.)
6. "Don't Know About That Last One"
Sometimes big gameplay moments are big personality moments, like this one in which Michael Camp nearly aced the WOMEN IN MUSIC category. While Alex applauded his seeming command of the category, Michael clearly doesn't mind letting us know that an educated guess is a big part of the game. (Click to watch the video clip.)