David Clemmons Wins the 2017 Jeopardy! Teachers Tournament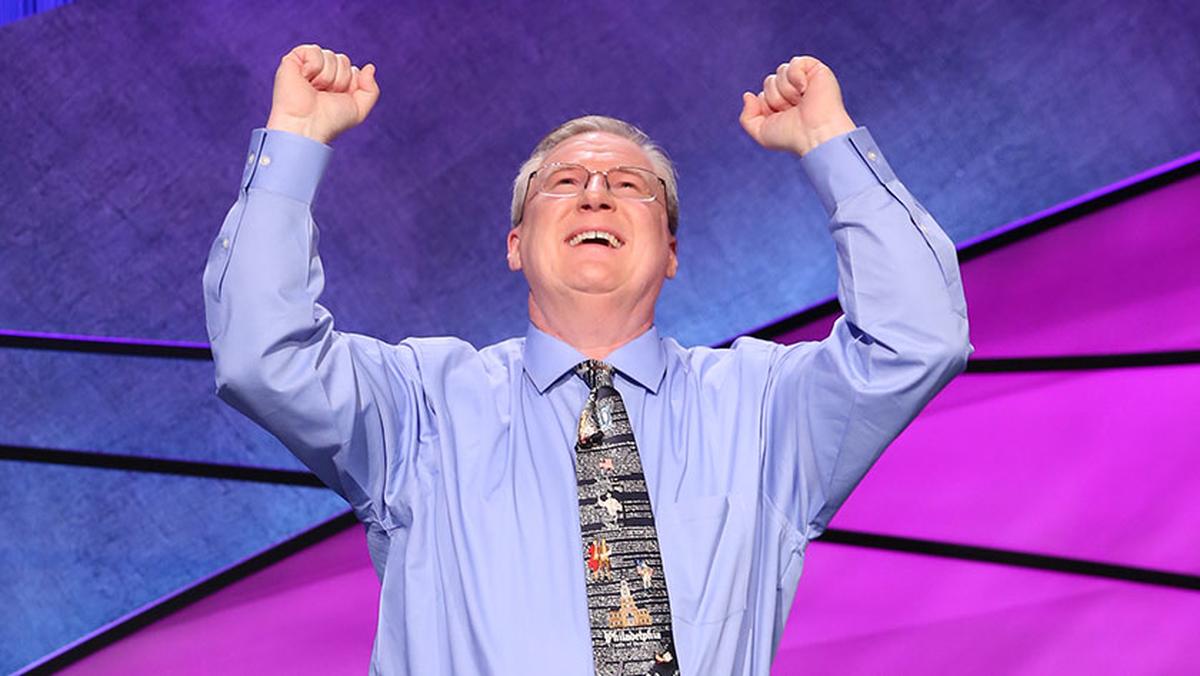 One look at Teachers Tournament contestant David Clemmons in his quarterfinal game, and you'd think he was a conservative bettor. Tied for first with $10,400 in Final Jeopardy!, David wagered only $400 and moved on to the next round when both his competitors missed the clue.
But the latter rounds of tournament play can bring out a different side in people. In his semifinal matchup, David got off to a rough start in the first Jeopardy! round. "I was so behind in that second game, I was down below zero," David said, "and I thought, 'You know, this has been a really nice experience. What the heck – I'm just gonna go for it in the second round.'" And he truly came alive in that round.
Half the clues remained on the board in Double Jeopardy! with the other two players virtually tied. David stood about $10,000 behind them.That's when he hit the gas. First, a couple of $2,000 gains put David within striking distance of their scores but he would still need a lucky hit on a Daily Double. That's exactly what happened when David selected his next clue.
Feeling the weight of the wager, David got choked up as he said the words "Alex, let's make it a true Daily Double." With the crowd behind him and the momentum of the game turning in his favor, the correct response put David in a strong second place position. The rest of the game was his; only one other clue going to another player. When it came to Final Jeopardy!, David protected his lead with a big $10,000 wager. In a final dramatic twist, he had crossed out his first correct response, but his alternative response was also acceptable, giving David the win and taking him to the finals.
The first finals matchup provided a roller coaster turn of events. Nan Cohen had a sizable lead going into Final Jeopardy! – nearly three times David's score – but her confidence in the category and gutsy wager did not pay off. David was the only contestant to give a correct response and in that single moment, his standing swung from distant third to first.
It wasn't until the final game that we saw David's biggest wager of the tournament. All three contestants were very evenly matched throughout Double Jeopardy!, all hovering around $17,000 at the beginning of Final Jeopardy! The time for conservative bets was over – David was aiming for the championship. A $17,600 wager with the correct response secured David's lead, and the Teachers Tournament (and $100,000 prize) was his.
"I just want to run outside and scream as loud as I can and run down through the studio aisles and rows and everything," David said after winning the tournament. As the moment settled, we asked him how he planned to use his winnings. While most of it will likely go to his daughters' college educations, David has some other plans that have long been on his mind. "My third-grade teacher Mrs. Abbot went to Chichen Itza right before I got into her class," he said. "She showed us pictures. I've wanted to go since third grade, and we're gonna go!"
We wish David the best on his long-awaited trip, and congratulate him on a well deserved victory.