Enjoy These Tournament of Champions Cocktails Created By Jeopardy! Champ Austin Rogers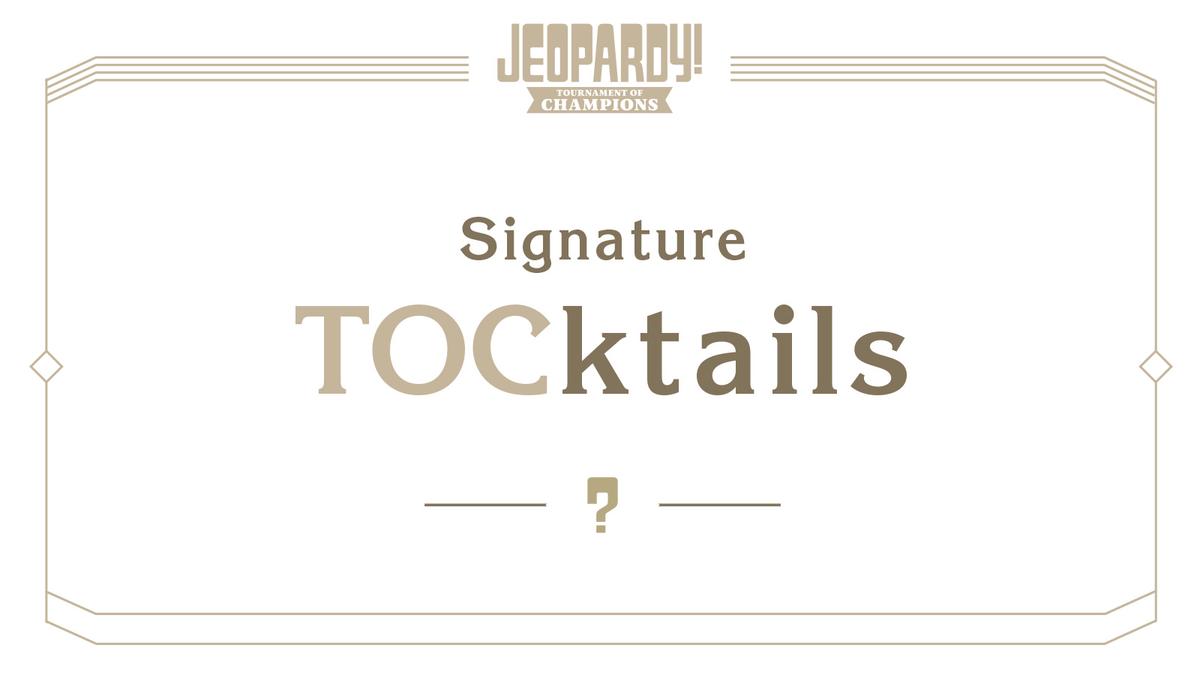 When 2017 Tournament of Champions finalist and bar owner Austin Rogers signed on to craft a signature cocktail menu for the 2022 Tournament of Champions, the 12-game super-champ said he wanted each drink to tell a story that not only celebrated the contestants and their accomplishments but also paid homage to Jeopardy!'s legacy. 
"I decided to come up with something that gave a nod to the three breakout super-champs: Mattea, Matt and Amy," Austin said. "The easiest way to go down that road was to look into geography."
"And luckily all three of them are from distinct geographic places that have some hallmark beverages associated with them," he added.
Austin, the owner of the Gaf West in Manhattan, looked to Matt Amodio's hometown of Hartford, Conn., to come up with the base for the first cocktail, the Super-Champ Mule. 
"I did not know the Moscow Mule had origins in Connecticut," Austin said. "But that's the beauty of being a Jeopardy! fan—you get to figure these things out as you go along."
To put a Tournament of Champions twist on the classic mule recipe of vodka, ginger beer and lime juice, Austin turned to Mattea Roach's home country of Canada. 
"Canada is really famous for their rye [whiskeys], so the next part is we take out the vodka from the mule and supplant it with a nice hardy Canadian rye," Austin said. 
To balance out the recipe, Austin added a bit of Amy Schneider's hometown of Oakland into the mix with a dash of Fernet-Branca, an Italian-style bitters that's widely enjoyed in the Bay Area.
"The Bay Area consumes more fernet than anywhere else in the world except for maybe Argentina," Austin explained. 
For the second cocktail, the Make it a True Daily Double, Austin sought out the advice of his bar's ace mixologist, Corey. 
"The second drink I was actually averse to," Austin admitted. "I did not want to make a drink that emulated the colors of Jeopardy! because I think colored drinks are cheesy. But better wisdom prevailed and Corey said 'let me convince you to go otherwise.'"
The two landed on a black currant-flavored martini that features a fun purple hue but packs a punch. 
"It's got a nice rich purple color, which is a Jeopardy! legacy color, and a cool frothy top," Austin said. "I think it's just sweet enough that it'll be palpable to the people out there who have a sort of sweet tooth for their cocktail but it's definitely boozy enough for someone who wants to get a kick out of it." 
For the entire family to get in on the Tournament of Champions cocktail fun, Austin modified the super-champ mule by adding a coveted mocktail ingredient: tea.
"The beauty of cocktails is any cocktail that you can think of that uses a brown liquor or something like that, is that if you just hardcore steep some black or green tea, you can supplant the liquor that cocktail recipe calls for and make a really great mocktail."
Check out the Signature TOCktail recipes below and tune in for the start of the Tournament of Champions on Monday, Oct. 31.
Super-Champ Mule
2 parts rye
½ oz of fresh lime juice
½ oz of Honey Syrup (1 part honey diluted in 1 part hot water)
Stir thoroughly in cocktail mixer
Strain into highball glass over ice
Fill with ginger beer
Float 1/2 oz of Fernet Branca on top
Garnish with lime wedge
Make it a True Daily Double
1 part creme de cassis
2 parts vodka
½ oz fresh lemon juice
½ oz triple sec
Dash of grenadine
Mix all over ice in shaker
Shake vigorously
Pour into chilled coupe or martini glass
Garnish with lemon wedge
Super-Champ Mock Mule
2 parts double steeped black or green tea
½ oz of fresh lime juice
½ oz of Honey Syrup (1 part honey diluted in 1 part hot water)
Stir thoroughly in cocktail mixer
Strain into highball glass over ice
Fill with ginger beer
Float 1/2 oz of vanilla extract on top
Garnish with lime wedge