5 Unforgettable Reactions to Winning Jeopardy!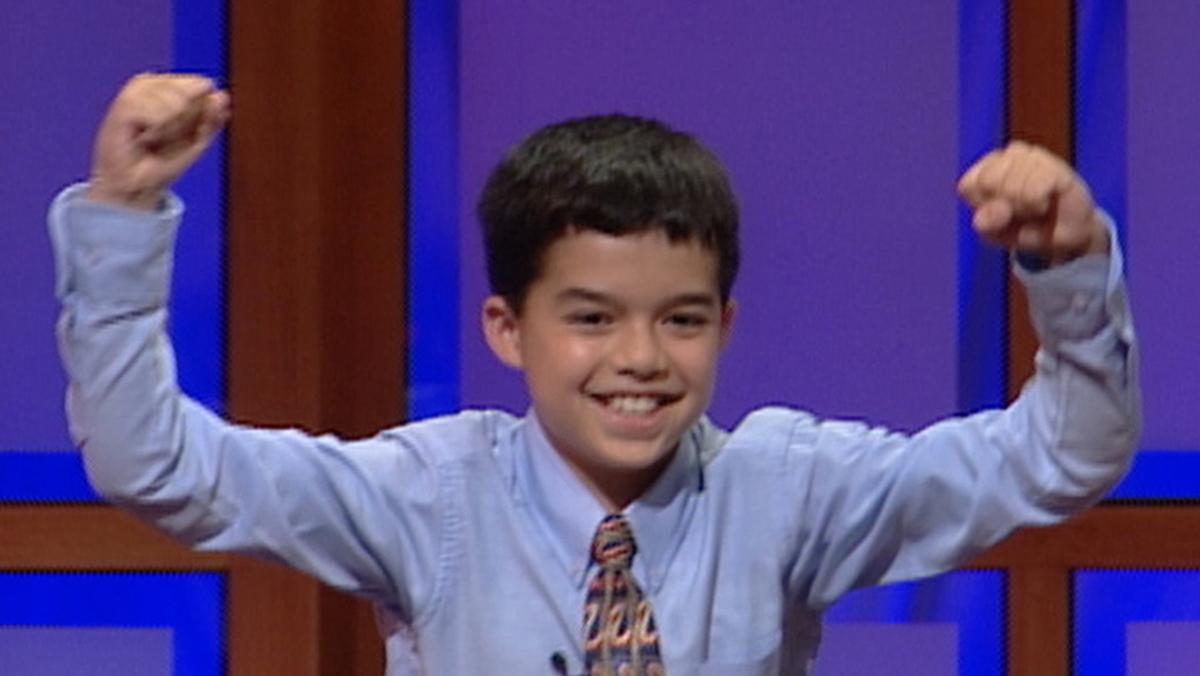 What would you do if you won Jeopardy!? Consider all you would have gone through – you dominated the online test, nailed the interviews, and the practice round is in your rearview. Now you're on air. Next stop: the title of Jeopardy! champion and a big pile of cash, right? For some winners, their reaction to winning is as entertaining as their performance, and we enjoy watching them live in the moment. These are five unforgettable winning reactions we've seen over the course of 32 seasons on Jeopardy!
Penn Jillette reminds us why he's a professional entertainer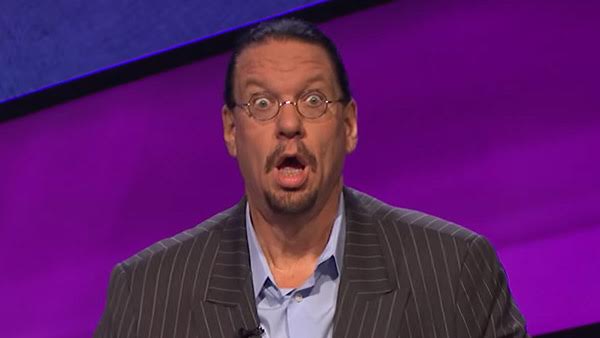 Penn appeared on Celebrity Jeopardy! in Season 31, and performed like a champion. He didn't have to pull any hocus pocus to get by Zachary Quinto and Cynthia Rowley either. However, once he pulled out the victory, his facial expressions and demonstrative gestures were thrown into overdrive. It's enthusiasm like this that gets the audience involved and makes attending a Jeopardy! taping a unique experience.
Joel Serna's come-from-behind-victory celebration melts hearts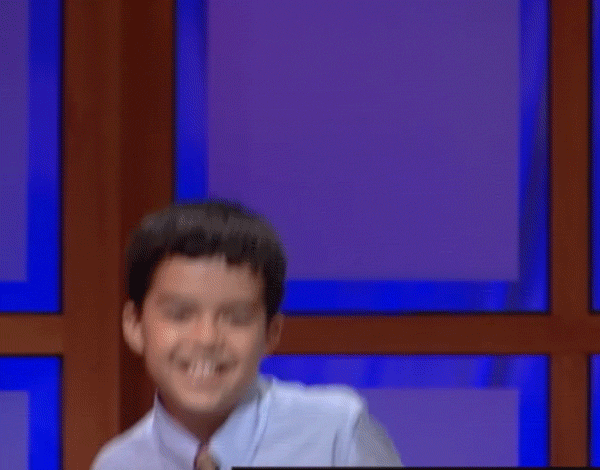 In the 1999 Jeopardy! Kids Week, Joel Serna of Fort Worth, Texas, competed valiantly. However, one of his competitors – Max – seemed to have a particularly hot hand, racking up $10,800 before Final Jeopardy! Comparatively, Joel's total was $6,100. In a $4,700 deficit, Joel needed luck on his side in order to pull out a win.
When it came time to reveal each contestant's response, he was the only contestant who offered one – and it was correct. His wager? All in – $6,100 – which put him at $12,200. His come-from-behind victory exemplifies why Final Jeopardy! and wagering are crucial elements of the game. Joel's never-say-die attitude got him the win, and his subsequent reaction still has us jumping in victory right alongside him.
Alex Jacob thanks his supporters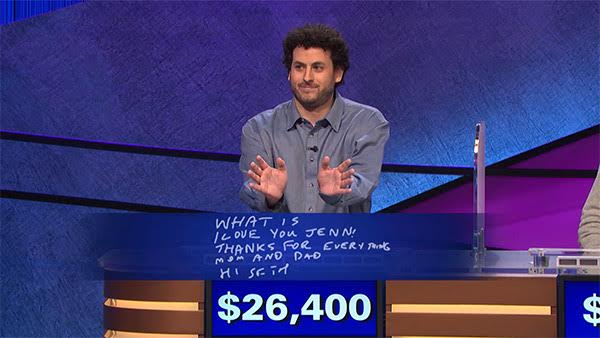 A master of unique and often heart-warming reactions, Alex Jacob's success provided no shortage of chances to show them off. Over the course of his six regular season wins and his run in the 2015 Tournament of Champions, he competed ferociously, racking up huge winnings and putting many games out of his opponents' reach before Final Jeopardy!
Like a true champion, Alex often used these opportunities to express his gratitude to his family as well as the Jeopardy! team. A selfless winner – is there a better kind?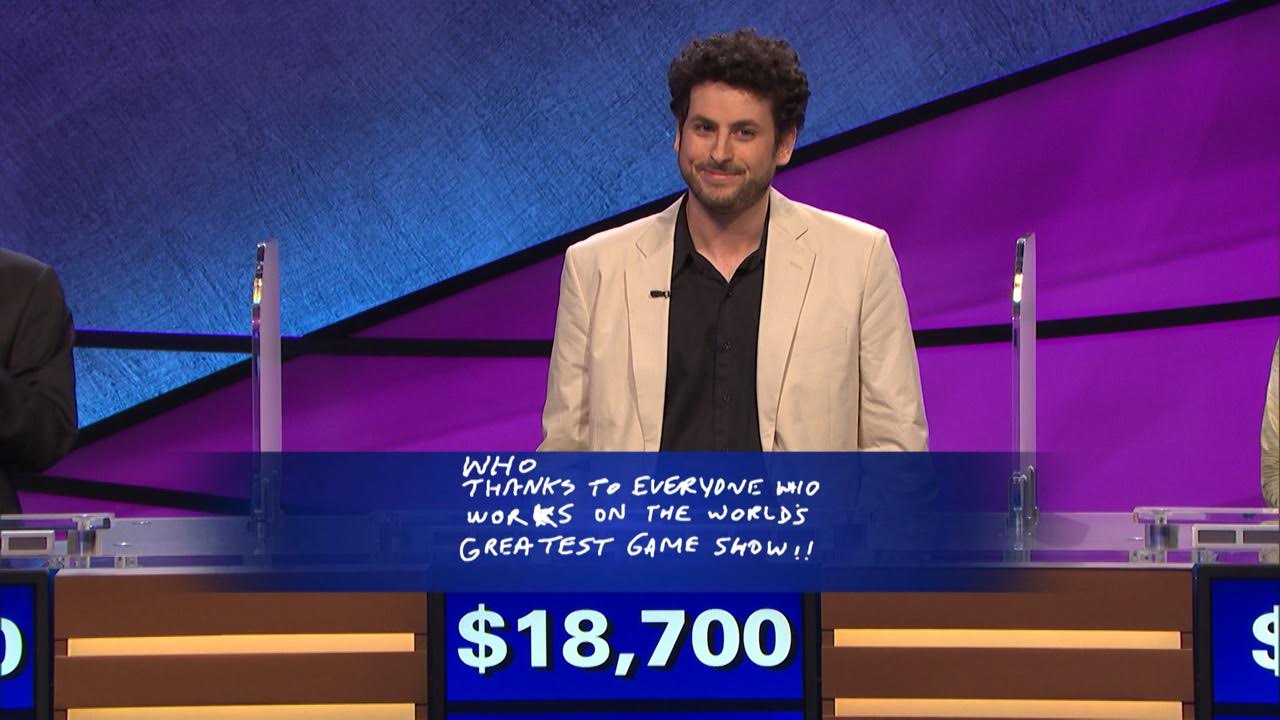 Elyse Mancuso's triumphant look says it all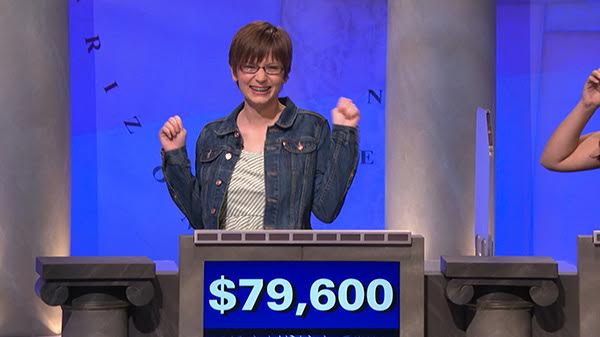 In the 2012 Teen Tournament, hosted at DAR Constitution Hall in Washington, DC, Elyse Mancuso faced strong competition. The beginning of the show started slow for her with competitors grabbing many of the clues, and responding correctly, leaving Elyse with little winnings. At the end of the Jeopardy! round, she faced a big uphill battle in Double Jeopardy! – $6,600, to be exact.
However, early in Double Jeopardy!, Elyse uncovered a Daily Double. She made it a true Daily Double, wagering the full amount, and responded correctly. Her bold move paid off, and she was instantly within $600 of first place. On the following clue, worth $2,000, Elyse took the lead. After that, she never looked back and held a $13,000 lead going into Final Jeopardy!
In Final Jeopardy!, both of the other contestants responded correctly, putting the pressure on Elyse to follow suit. As the camera cut to Elyse, her typically reserved demeanor seemed to change, and her elevated energy became apparent, as she uncovered "Thomas Jefferson," the correct response – and a $28,000 wager – almost doubling her $28,400 total. The gutsy wager could have put her win in "Jeopardy!", but instead, the tournament champion raked in a grand total of $79,600 and flashed the packed crowd a cheek-to-cheek smile, braces and all, which had "triumphant" written all over it.
Robin Carroll serves up victory...family style
Jeopardy! is equal parts entertainment and education. When we filmed the 2000 Tournament of Champions in Atlanta, Robin Carroll became a Jeopardy! champion and expertly exemplified those pillars. She took home $100,000 and was visibly overjoyed. However, her family's reaction to the win almost stole the show. Regardless, this was a family effort and we applaud the Carroll family's enthusiasm as well as Robin's gameplay.