Amy Schneider's Record-Breaking Jeopardy! Streak Ends After 40 Consecutive Wins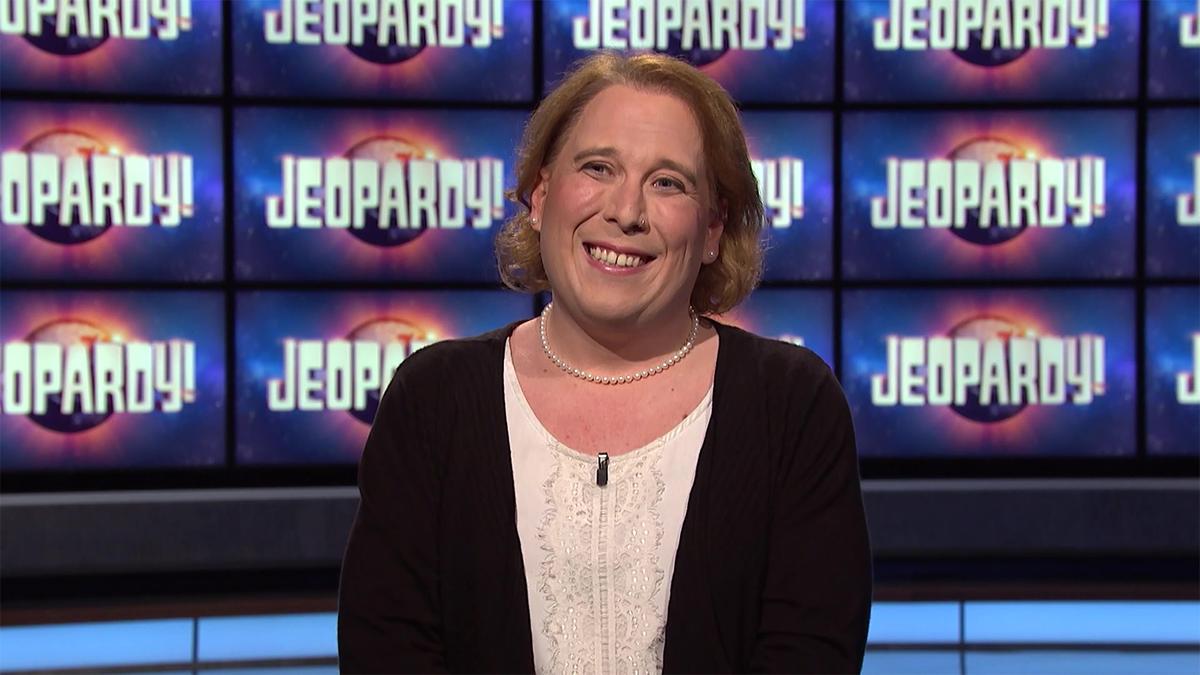 All good things must come to an end. After raking in $1,382,800 over the course of 40 games, Amy Schneider is stepping down from her Jeopardy! contestant podium as the second longest-running player in the show's history.
"It's really been an honor," Amy said. "Just to really know that I'm one of the most successful people at a game I've loved since I was a kid … and just to know that I'm part of its history now — I don't even know how to process it."
The super champion's record-breaking streak concluded on Wednesday, after Rhone Talsma, a librarian from Chicago, finished in first place with $29,600 in winnings. Rhone initially trailed behind Amy, but he tightened the gap when he picked up a massive Daily Double during Double Jeopardy! He then sealed the deal and won the game by being the only contestant to come up with the correct response in Final Jeopardy! "I had thought that Rhone was going to be tough going into it," Amy said. "We had great conversations before the taping, but I could also tell that he was here to play and that he was going to be good."
Amy finishes her monumental 40-game run holding the No. 2 spot on the all-time consecutive wins list behind Ken Jennings (74 wins) and the No. 4 spot on the all-time regular season cash winnings list with $1,382,800. Only Matt Amodio ($1,518,601), James Holzhauer ($2,462,216), and Ken ($2,520,700) have earned more than Amy during regular-season play.
Statistically speaking, Amy also measured up as quite the formidable player: 85 percent of her games throughout her streak were runaways and she responded correctly to clues 95 percent of the time.
The 40-day mega champ will return to the Jeopardy! stage to compete in the upcoming Tournament of Champions. While the competition is sure to be steep, she has a bit of advice for her fellow competitors: "Everybody is beatable. Just go in there and take your chances."