2022 Jeopardy! Tournament of Champions: Finals Recap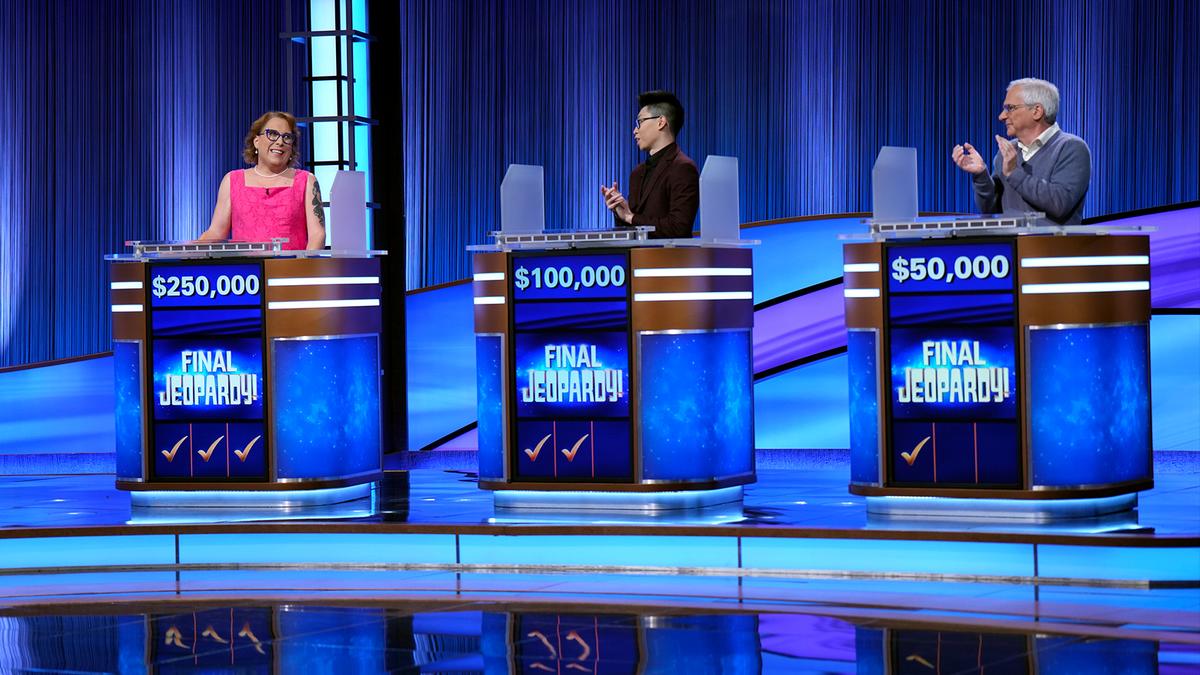 That's a wrap on this year's Tournament of Champions! And just in case you've been living in one of those underground nuclear bunkers without access to a TV or the internet, let's recap what exactly went down over the course of the six-game finals.
Things kicked off last Monday with Amy Schneider, Andrew He and Sam Buttrey hyped up and ready to buzz in. Amy was quick to set the tempo, pulling out ahead early in Game 1 with a slight lead over her two competitors at the end of the Jeopardy! round. But Andrew wasn't going to let her win Game 1 in a walk, coming in hot during the Double Jeopardy! round with a true Daily Double that left him with $15,600 and the lead. With both Amy and Sam within striking distance of Andrew, it was anyone's game going into Final Jeopardy!. But in the end it was Andrew, whose correct response and shrewd $10,401 wager allowed him to finish with $29,201 for the Game 1 win.
With the first game in the books and any early jitters successfully exorcized, Game 2 on Tuesday saw Andrew and Amy trade punch and counterpunch throughout the first two rounds. Sam did his best to stay competitive, but in the end couldn't maintain his competitors' breakneck speed. Going into a nail-bitingly close Final Jeopardy!, Andrew led the field with $23,200, but Amy was nipping at his heels with $22,200 of her own. A correct response in Final escaped all three contestants, unfortunately, which meant the question of who would come out on top in Game 2 came down to wagering strategy. And the day's best wagerer would wind up being Amy, whose small-yet-strategic wager of $1,100 worked in her favor and left with $21,100 and a Game 2 win.
The competition only continued to heat up on Wednesday, as Amy and Andrew once again found themselves neck and neck, tied with $3,800 at the end of the Jeopardy! round, with a resurgent Sam behind the two leaders by only $200. The Naval Postgraduate School associate professor kicked into high gear in Double Jeopardy!, passing both Amy and Andrew and clinching the lead with $14,800 heading into Final Jeopardy!. Sam couldn't relax quite yet, as Andrew was close behind with $13,200. Neither would respond correctly in Final Jeopardy!, but it was Andrew's smart wager that left him with $9,999 and the Game 3 win.
In Thursday's Game 4 , Amy steamrolled into Double Jeopardy! with $10,200 and a sizable lead over Andrew and Sam, who trailed behind with $4,000 and $2,400, respectively. Unlike the pugilistic first three games of the Finals, Amy mostly coasted through Double Jeopardy!, but it was no runaway; heading into Final Jeopardy! it was still anyone's game. Although Game 4 ended with another triple stumper, another smart wager and a comfortable lead allowed Amy to triumph over her competitors and secure her second win in the finals.
At this point you're probably wondering, "Well, when's Sam going to get his first win?" After all, Amy and Andrew had two wins under their belts going into Game 5 on Friday. Was one of them going to be victorious and secure their third win and the championship title? It seemed that way at first, but Sam wasn't going to go down without a fight! During the Final Jeopardy! round, Sam wagered it all and came up big with $22,400. Amy also had the correct response, but her $1,800 wager left her $,4800 behind with a final score of $17,600 — not enough to beat Sam, who notched his first win.
Which takes us to Monday's Game 6, a game that was anyone's to win and ended in thrilling fashion. At the end of Double Jeopardy!, Amy held onto a slim lead with $15,600, just $1,400 more than Andrew's $14,200 and $7,600 more than Sam's $8,000. Both Amy and Andrew responded correctly in Final Jeopardy!, but a devastatingly bold $13,000 wager from Amy proved to be the difference maker, and the chess match that had unfolded over the previous six days was finally left with its winner: Amy Schneider.