Amy Schneider Wins the 2022 Tournament of Champions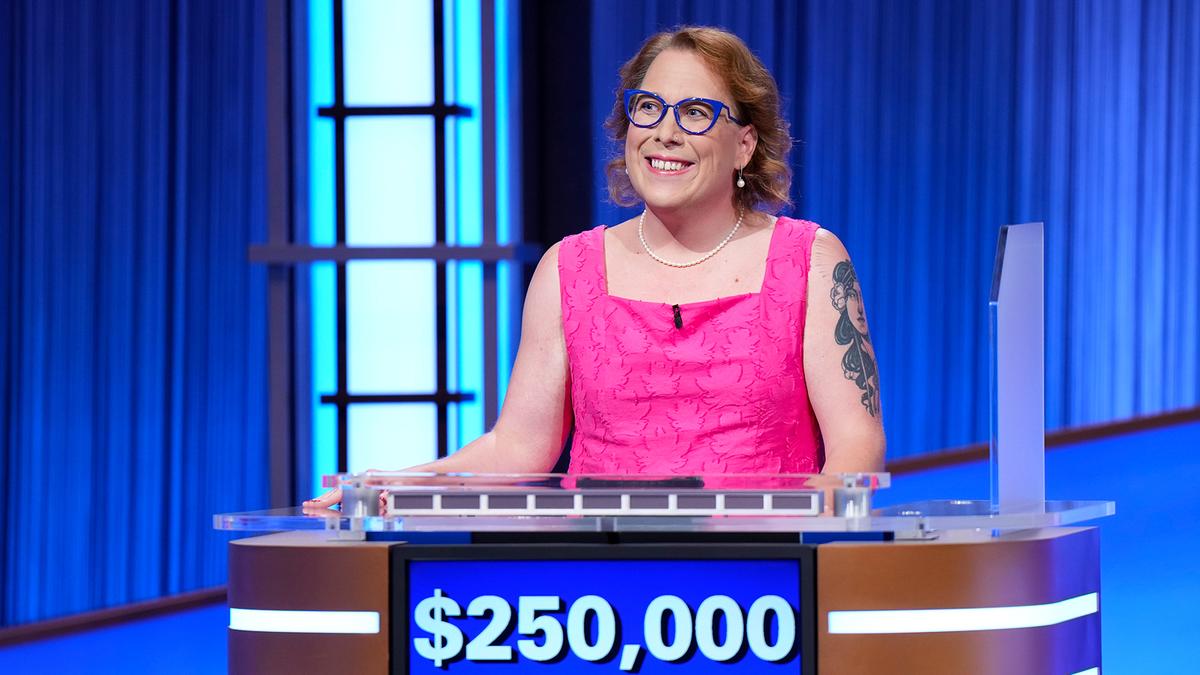 Drum roll, please: The winner of this year's Tournament of Champions is none other than the amazing Amy Schneider!
The Oakland-based writer was the first to win three games in the finals after she defeated Season 38 five-game winner Andrew He and 2021 Professors Tournament champion Sam Buttrey on Monday. With Andrew trailing Amy by only $1,400 at the end of the Double Jeopardy! round, it all came down to Final Jeopardy!. Even though they both responded correctly to the clue, it was Amy's bold $13,000 wager that led her to victory.
"I was both wanting to and afraid of facing him again," Amy said of going up against Andrew, the tough-nosed software developer from San Francisco known for his dramatic Daily Doubles and who originally lost to Amy after his own five-game, regular season run last November. "He was definitely somebody I knew was one of the top competitors in the field. He was someone I thought could beat me because he very nearly did before, and then did a couple of times here [in the ToC finals] as well."
Amy acknowledged that Sam put up a good fight, too. "Any three of us could have won if a very small number of things had gone differently," she noted. "I'm glad we each got a real chance to really test our skills against each other."
Andrew and Sam didn't make it easy for Amy to secure her big win, but ultimately, despite their best efforts, she proved to be unstoppable.
"All year everyone I met kept telling me, 'Oh you're going to win it', 'Oh you're going to crush it,' and I was like, 'This is not helpful to me, to put that pressure on me,'" said Amy, reflecting on her journey to the ToC. "But I guess they knew what they were talking about."
Amy's stats over the course of the ToC prove just how incredible she really is, too. During the finals, she led both Andrew and Sam with the most buzzes (28) and most correct responses (28), as well as the highest scores after the Jeopardy! round and the Double Jeopardy! round with $10,200 and $25,000, respectively — feats she achieved in just a single game. She didn't disappoint in the semifinals either, racking up the most buzz attempts (47), most buzzes (28), most correct responses (26) and the highest score at the end of the Jeopardy! round with $12,600. Phew!
In winning the Tournament of Champions, Amy joins the likes of Sam Kavanaugh, James Holzhauer, Buzzy Cohen and Alex Jacob, all of whom have won the ToC in recent years.
Since her first appearance on Jeopardy! a year ago, when she earned an eye-popping $1,382,800 over the course of 40 games, Amy shared that "it's been the most eventful year I've ever had." What a year it's been, indeed.
So what's next for our champ? Some well-deserved R&R, as she plans to "go home, celebrate, stop thinking about trivia for a little bit, and then get back to writing a book and doing whatever I feel like doing for a while." Think we can all agree that if there's anyone who's earned a nice long break, it's Amy.