Daily Recap: The 2021 Jeopardy! Tournament of Champions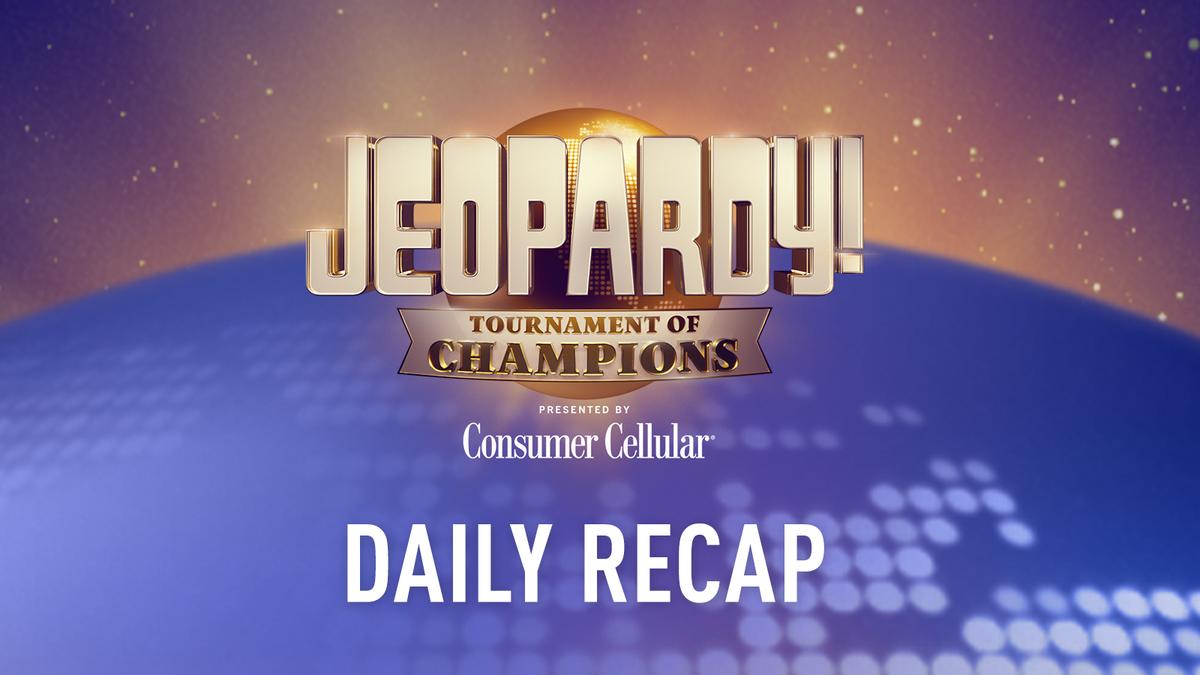 Check back each day of the tournament for highlights from the previous game.
Monday, May 17, 2021
The 2021 Tournament of Champions kicked off with an intense quarterfinals game between 19-time champ Jason Zuffranieri and 4-game winners Ryan Bilger and Sarah Jett Rayburn. Showing three distinctly different playing styles, the competition was fierce straight out of the gate. Ryan took the lead early on and picked up two Daily Doubles, which ultimately helped him secure a runaway victory and a spot in the semifinals! Whether Jason's 2nd place score of $18,800 is enough to earn him a Wild Card spot remains to be seen. If this first game is any indication, this tournament is going to be a scorcher!
Tuesday, May 18, 2021
Another great quarterfinals game is in the books after a vigorous face off between 8-game winner Karen Farrell, 2020 College Champion Nibir Sarma, and 3-time champ Steve Moulds! It was a lively battle for much of the game, coming down to the wire in Final Jeopardy! with Karen ahead of Nibir by only $1,000, and Steve in third but still in a position to spoil. After coming up with the correct response, Karen took the win and scored her spot in the semifinals! Will Nibir or Steve be able to draw a Wild Card? Tune in tomorrow!
Wednesday, May 19, 2021
Game 3 of the tournament was an exciting quarterfinals matchup between 8-time champ Jennifer Quail, 5-day winner Paul Trifiletti, and 4-game champion Ryan Hemmel. The contestants gave each other a run for their money, but Jennifer carried the day and secured a spot in the semifinals with a decisive win! The tournament is far from over for Ryan and Paul. They both fared well enough to move into the Wild Card pool, but there are two more quarterfinal games to go. Stay with us for more fierce gameplay!
Thursday, May 20, 2021
Strategic bidding was the name of the game in Thursday's quarterfinals matchup between 8-game champ Mackenzie Jones, 5-day winner Kevin Walsh, and 2020 Teachers Tournament champion Ben Henri. It was an intense battle from start to finish, but in the end Kevin took home the win and secured a spot in the semifinals! All three contestants missed the Final Jeopardy! clue, but thanks to a smart bid of $0, Mackenzie has entered the pool of Wild Card candidates. Don't miss the last quarterfinals game tomorrow!
Friday, May 21, 2021
Five-time winners Veronica Vichit-Vadakan and Sam Kavanaugh went head-to-head, along with 4-game champ Andy Wood, in the last quarterfinals game. Veronica started off in the lead, but by the end of Double Jeopardy! Sam was within striking distance in second place with Andy trailing in third. It all came down to Final Jeopardy!, and when the dust cleared, Sam pulled ahead by $341 to secure a spot in the semifinals! But Veronica isn't finished yet. She also advances to the semifinals with a Wild Card! See you next week!
Monday, May 24, 2021
The semifinals got off to a quick start on Monday with a heated matchup between Sam, Karen and Ryan, but Sam quickly took the lead. After delivering a commanding performance in Double Jeopardy! — which included a huge Daily Double — he drove home the victory with a runway and claimed the first spot in the finals! Which two champs will be next to join him? Keep watching to find out!
Tuesday, May 25, 2021
Tuesday's semifinals matchup between Ryan, Veronica and Kevin was a fierce battle full of twists and turns 'til the very end! Ryan started with a strong lead, but Veronica charged ahead during Double Jeopardy!, leaving Kevin in third. With survival on the line for Final Jeopardy!, emotions ran high as Veronica took the win and secured her spot in the finals! Only one game left in the semis — the next match is sure to be intense!
Wednesday, May 26, 2021
The semifinals concluded with a nail-biting battle between Jennifer, Jason, and Nibir. The game was competitive throughout. Ultimately, betting big in Final Jeopardy! paid off for Jennifer and now she's headed to the finals! Only two games left in the tourney before we have a new TOC champ! Who will claim the title and $250,000 payday — Sam, Veronica, or Jennifer?
Thursday, May 27, 2021
Veronica, Sam, and Jennifer went head-to-head in an intense first game of the finals. Sam took the lead early on and remained strong all the way through Final Jeopardy!, earning an impressive score of $38,000. Jennifer came in second with $14,500 and Veronica third with $6,400. But the tournament isn't over yet! Each score from today's game will be added to tomorrow's totals to determine the winning score. Tune in tomorrow to find out which champ becomes victorious!
Friday, May 28, 2021
The final match of the 2021 Tournament of Champions was an incredibly close game full of highs and lows for all three champs. But in the end, Sam proved victorious and took home the championship title and $250,000 grand prize! Congratulations Sam!