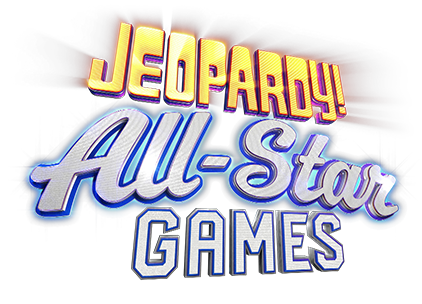 The teams have been selected! Watch highlights.
FANTASY LEAGUE
December 3-31, 2018
The first-ever Jeopardy! All-Star Games will offer fans the chance to see their favorite players join forces and compete in an unprecedented event that is sure to captivate audiences nationwide. Eighteen elite contestants will return to the show to play the game as it's never been played before: in teams!
In December, you can draft your own three-person dream team in the Jeopardy! All-Star Games Fantasy League and Sweepstakes for the chance to win a trip anywhere in the world that Lindblad Expeditions travels. Stay tuned for more info.
All-Star Players
The contestants returning for the Jeopardy! All-Star Games represent the winningest and most popular players in recent Jeopardy! history.
ALL-STAR STATS
Click on the column header to sort.
Number in parenthesis denotes ranking amongst the All-Stars contestants.
Player

Sort descending

Average First Ring-Ins Per Game [1]
Percent of Correct Responses [2]
Percent Correct of Final Jeopardy!
Average Daily Double Wager
Average Final Jeopardy! Wager
Percent of Runaway Games
Average Winning Score
Alan Lin
19.5 (13)
89.6% (12)
64% [7/11] (8)
$3,273 (8)
$4,610 (14)
27% [3/11] (12)
$17,774(13)
Alex Jacob
25.4 (3)
91.6% (7)
27% [3/11] (18)
$4,694 (4)
$4,431 (15)
73% [8/11] (2)
$24,451(5)
Austin Rogers
22.2 (8)
88.3% (13)
82% [14/17] (4)
$4,842 (3)
$9,885 (2)
47% [8/17] (5)
$28,315(2)
Ben Ingram
18.8 (15)
92.8% (2)
92% [12/13] (2)
$2,648 (11)
$4,418 (16)
23% [3/13] (14)
$20,621(9)
Brad Rutter
23.5 (5)
91.2% (10)
59% [16/27] (10)
$2,121 (14)
$5,149 (10)
37% [10/27] (9)
$17,397(14)
Buzzy Cohen
19.5 (12)
86.5% (15)
57% [8/14] (11)
$2,745 (10)
$5,722 (6)
29% [4/14] (10)
$19,379(10)
Colby Burnett
18.4 (16)
92.2% (4)
55% [6/11] (13)
$1,547 (18)
$2,848 (18)
18% [2/11] (15)
$16,970(15)
David Madden
21.4 (10)
91.8% (6)
73% [16/22] (5)
$1,804 (17)
$3,614 (17)
50% [11/22] (4)
$21,441(7)
Jennifer Giles
19.2 (14)
87.6% (14)
60% [3/5] (9)
$2,250 (12)
$4,840 (12)
40% [2/5] (8)
$13,160(18)
Julia Collins
21.3 (11)
91.9% (5)
56% [14/25] (12)
$2,227 (13)
$5,236 (9)
44% [11/25] (7)
$18,628(12)
Ken Jennings
33.0 (1)
91.4% (8)
66% [56/85] (6)
$3,815 (7)
$7,393 (5)
79% [67/85] (1)
$31,627(1)
Larissa Kelly
22.6 (6)
92.4% (3)
83% [10/12] (3)
$4,078 (6)
$10,567 (1)
16% [2/12] (16)
$27,233(3)
Leonard Cooper
22.0 (9)
85.6% (17)
50% [2/4] (16)
$18,000 (1)
$8,050 (3)
25% [1/4] (13)
$22,650(6)
Matt Jackson
24.6 (4)
96.2% (1)
50% [9/18] (14)
$4,672 (5)
$5,523 (8)
67% [12/18] (3)
$26,417(4)
Monica Thieu
17.0 (18)
80.4% (18)
100% [5/5] (1)
$1,933 (16)
$5,600 (7)
0% [0/5] (17)
$15,400(17)
Pam Mueller
17.9 (17)
90.0% (11)
43% [6/14] (17)
$2,769 (9)
$5,085 (11)
0% [0/14] (18)
$15,401(16)
Roger Craig
25.9 (2)
86.2% (16)
50% [8/16] (15)
$6,350 (2)
$7,752 (4)
44% [7/16] (6)
$19,360(11)
Seth Wilson
22.5 (7)
91.3% (9)
64% [9/14] (7)
$2,035 (15)
$4,743 (13)
29% [4/14] (11)
$20,672(8)